Welsh election: Pledge to treble council tax for second homes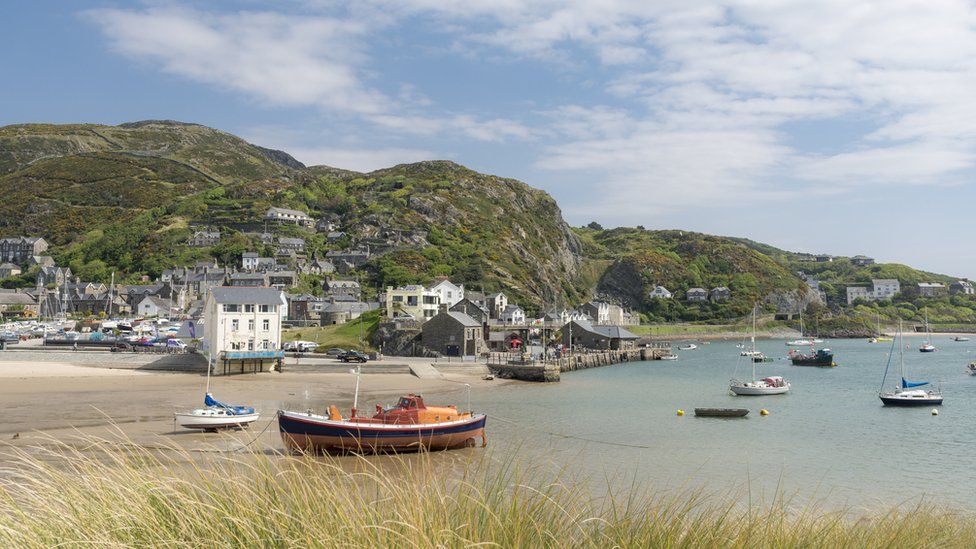 Second home-owners in Wales could see their council tax trebled if Plaid Cymru is in government after May's Senedd election.
Plaid is proposing to increase the council tax premium that can be charged on second homes from 100% to 200%.
The party is also proposing to cap the number of second homes in an area and change the rules so that they cannot be registered as businesses.
Conservatives called it a "veiled attack" on Wales' visitor economy.
But Plaid says the policies are necessary to prevent rural communities from losing a "generation of young people" because of the "second homes crisis".
Gwynedd has the highest number of second homes - 5,098 - 20% of all second homes in Wales.
Pembrokeshire has 4,068 registered, Cardiff has 3,477, Anglesey 2,139 and 2,104 in Swansea.
Since 2017, Welsh councils have had the right to charge a council tax premium of up to 100% on second homes.
In the 2020/21 financial year, eight councils charged a premium - Conwy and Ceredigion have been charging 25%; Anglesey has been charging 35%; whilst Gwynedd, Denbighshire, Flintshire, Powys and Pembrokeshire councils have been charging a 50% premium.
WALES ELECTION: THE BASICS
What elections are happening? On 6 May, people across Wales will vote to elect 60 Members of the Senedd (MSs). The party or parties that can command the support of a majority of members will form the Welsh government. Find out more here.
What powers does the Welsh Parliament have? MSs pass laws on many aspects of day-to-day life in Wales, such as health, education and transport. They also have control over some taxes. Defence, foreign policy and immigration are decided by the UK Parliament.
How do I vote? Anyone who lives in Wales and is registered to vote is eligible, so long as they are aged 16 or over on the day of the election. You can register to vote online.
Mabon ap Gwynfor, Plaid's candidate for the Dwyfor Meirionnydd constituency in Gwynedd said his party in power would "close the loophole that currently allows second homes to be registered as 'businesses'" as well as increase the maximum premium to 200%.
He added: "In addition, a Plaid government would redefine the term 'affordable home' which currently includes properties worth over £250,000 - a figure way out of reach for many young people in our rural communities.
"Young people are at the heart of our rural communities and a Plaid government would be wholly committed to giving them every opportunity to earn, learn and live in their area of choice, wherever in Wales that may be."
The Welsh Conservative candidate for Dwyfor Meirionnydd, Charlie Evans, said: "Plaid Cymru are resorting to the same old policies of higher taxes with yet another veiled attack on Wales' brilliant visitor economy.
"Plaid have propped up a number of Labour governments and failed to oppose numerous Labour budgets over the past 22 years, so have to take responsibility for the part they've played in the housing crisis."
"Welsh Conservatives have an ambitious plan to solve the housing crisis and build a better Wales with 100,000 new homes, restoring right to buy and scrapping stamp duty for first time buyers."
In its last Welsh government budget, Labour changed the land transaction tax - the Welsh version of stamp duty - so that second-home owners pay a 4% levy when they buy properties up to £180,000, rising to 16% for homes worth at least £1.6m.
Welsh Labour's Joyce Watson said: "We recognise the concerns about the effects that large numbers of second homes can have on some of our communities and, in particular, on the long-term sustainability of our Welsh-speaking heartlands."
She added that if Labour was returned to power it would create 20,000 social homes for rent in the next Senedd term and guarantee every young person under 25 the offer of a job, education, training or support to start a business.
Stephen Churchman, Welsh Liberal Democrat candidate for Dwyfor Meirionnydd, said his party would "crack down on second homes".
"We will institute legislation that requires local authorities to set council tax at the maximum possible level for all homes other than someone's primary residence," he said.
"We will close loopholes that allow people to designate second homes as businesses and ensure that they pay their way to support the communities locally."
Other candidates expected to stand in Dwyfor Meirionnydd include:
Labour - Cian Ireland
Llais Gwynedd - Glyn Daniels
Propel - Peter Read