Welsh election: The key points from Welsh Labour's manifesto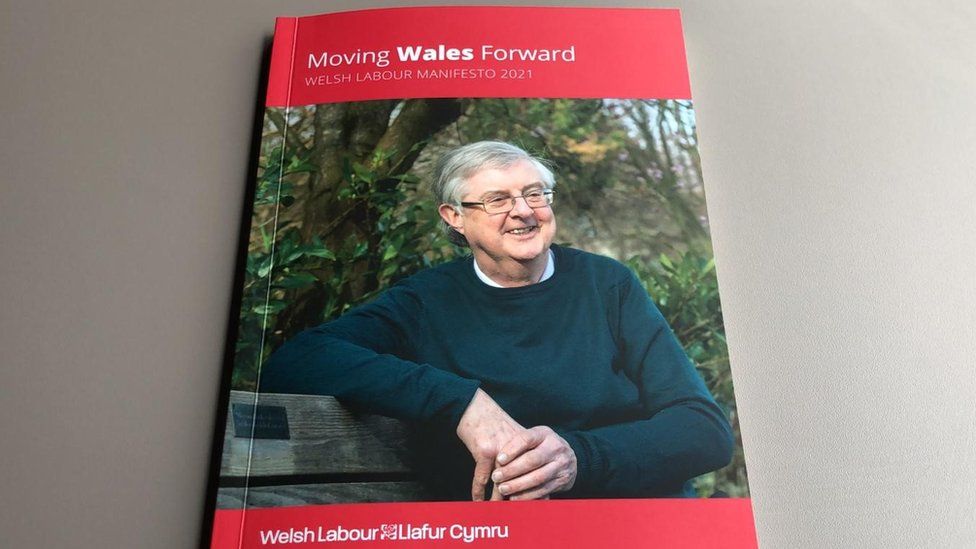 Much of Welsh Labour's manifesto is about what the party has done, as well as what it plans to do.
Each page of pledges is met with a page of what Labour lists as its achievements in government - the party is running on the shape of the last 22 years as much as anything else.
Labour's pitch to voters for the 2021 election is not a plan for a radical overhaul of the system of devolution, or the health service or social care.
There is a focus to help groups hit by Covid, like care staff and young people.
That sits alongside clauses which could give Labour flexibility on things like income tax, or to back a larger Senedd in future, while making firm commitments on neither.
The party is focusing on six pledges:
The "biggest catch up programme" in the NHS and schools and a new medical school for North Wales
A work, education or training offer for all under 25s
The Real Living Wage - set at the cost of living and higher than the National Living Wage - for care workers
Abolishing "most littered, single use plastics" and creating a National Forest for Wales
More Police Community Support Officers
Thousands of jobs through the building of new "low carbon" homes
WALES ELECTION: THE BASICS
What elections are happening? On 6 May, people across Wales will vote to elect 60 Members of the Senedd (MSs). The party or parties that can command the support of a majority of members will form the Welsh government. Find out more here.
What powers does the Welsh Parliament have? MSs pass laws on many aspects of day-to-day life in Wales, such as health, education and transport. They also have control over some taxes. Defence, foreign policy and immigration are decided by the UK Parliament.
How do I vote? Anyone who lives in Wales and is registered to vote is eligible, so long as they are aged 16 or over on the day of the election. You can register to vote online.
The health service takes the lions share of the cash spent by the Welsh government.
The manifesto says Labour would "invest heavily in post-Covid recovery to respond to current need and tackle the backlog of postponed treatments and operations caused by the pandemic to make sure no one is left behind".
Other commitments include:
A new medical school in north Wales
Prioritising investment in mental health services to help with long-term recovery from the pandemic
Developing a new generation of integrated health and social care centres
Developing an HIV action plan
Social care is not fully funded by taxation like the NHS is.
The manifesto says Labour would "pursue a sustainable UK solution so that care is free for all at the point of need".
"If the Conservative UK government breaks its promise again and fails to bring forward a fully funded scheme within the current UK parliament, we will consult on a potential Wales-only solution to meet our long-term care needs," it says.
Other commitments include:
The creation of a Chief Social Care Officer for Wales "to bring national leadership and greater esteem to the care profession"
Roll out baby bundles for new parents to more families
Eliminate private profit from the care of children, and fund regional residential services to bring children with complex needs back home from care outside of Wales
Economy, transport and jobs
Welsh Labour said it would support young people by developing a "new Young Persons Guarantee, giving everyone under 25 the offer of work, education, training, or self-employment".
It promises to create 125,000 "all-age apprenticeships" in the next term, and:
Expand Personal Learning Accounts to allow people to study flexibly and obtain new skills
Develop masterplans for towns and high streets to coordinate and focus economic opportunities and services
Support the development of a register of empty buildings and help small businesses move into vacant shops
The Labour manifesto says it would "lift the ban on local authorities setting up new municipal bus companies", "modernise" the taxi and private vehicle sector and address "the problems of cross-bordering", where drivers get a license in one county but work in another.
It promises to "invest in travel options that encourage public transport and support walking and cycling".
The 20mph speed limit would be made the default in residential areas.
The manifesto pledges to create a "national forest" to extend from the north to south Wales, improving 20 existing woodlands. It says the party would support communities to create 30 new woodlands.
Labour says it would abolish the use of more commonly littered, single use plastics.
Other commitments include:
Designating a new National Park to cover the Clwydian Range and Dee Valley
Supporting 80 re-use and repair hubs in town centres
A new law to ensure coal tip safety
A moratorium on planning permission for large incineration facilities
Labour promises to "repair the damage done over the last year" when education was disrupted by Covid.
Exploring reform of the school day and the school year "to bring both more in line with contemporary patterns of family life and employment"
Funding up to 1,800 additional tutoring staff in schools as long as required
Investing more than £1.5bn in the next phase of the 21st Century Schools and Colleges Programme for new buildings
A review of the eligibility criteria for Free School Meals "extending entitlement as far as resources allow"
Developing a "sustainable model" for supply teaching
Housing policy and councils
Housing policy in Wales is devolved to the Senedd. The manifesto promises:
To build 20,000 new, low carbon social homes for rent
Develop a fire safety fund for existing buildings
Strengthen the autonomy and effectiveness of local government
Expand the number of Police Community Support Officers funded by the Welsh government from 500 to 600
Welsh language, culture and equalities
Labour says it would introduce a new law to strengthen and increase Welsh-language school provision, and provide free access to the Urdd Eisteddfod in 2022 on its centenary anniversary.
It pledges to expand Wales' Welsh language early years provision for children, and create a Welsh language Communities Housing Plan.
The manifesto promises to establish a National Music Service, and says Labour ministers would consult on allowing councils to raise a "tourism levy".
The document includes a section on equalities, saying Labour would work with others to establish an "equalities legal service to provide support on unfair or discriminatory employment practices".
It says the party would "ensure the history and culture of our Black, Asian, and Minority Ethnic communities are properly represented by investing further in our cultural sector and museum network".
Welsh Labour says it would build on the work on the Senedd committee on electoral reform, which recommended that the Welsh Parliament should have 20-30 new politicians, and develop proposals to boost representation.
The document says Labour ministers would "not take more in Welsh rates of income tax from Welsh families for at least as long as the economic impact of coronavirus lasts", and it commits to reforming council tax.
Labour says it would pursue the devolution of policing and justice.