Covid in Wales: Unvaccinated travel ban call as cases rise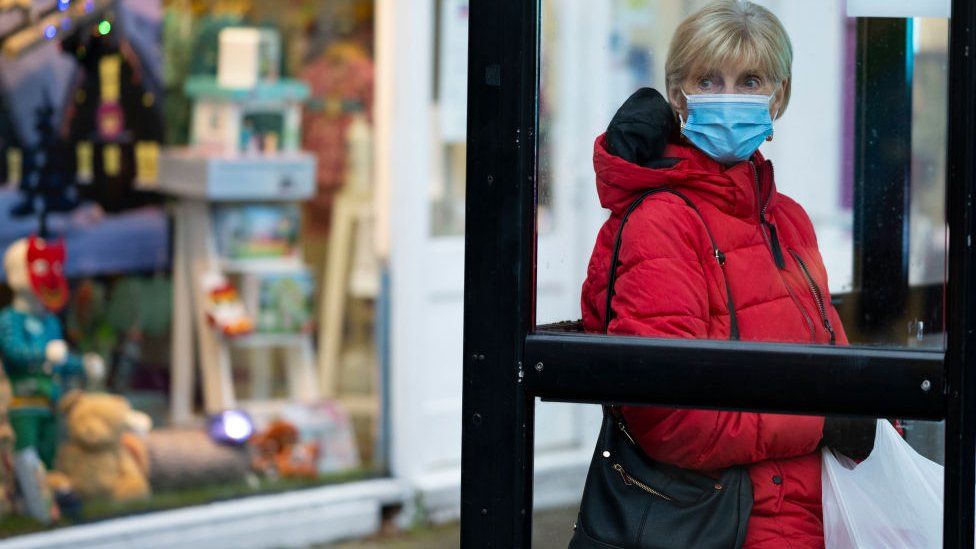 Holiday travel bans should be considered for the unvaccinated if Covid-19 cases continue to rise in Wales, one GP has recommended.
It comes as no changes are made to Wales' Covid restrictions in the latest review, while Covid cases in Wales are currently the highest since January.
Wales' first minister has urged people to protect communities and get vaccinated to stop the virus spreading.
Dr Mair Williams said rules were needed to encourage people to get a Covid jab.
The Tories said they had expected no changes to the rules in Friday's three-week review. Plaid Cymru called on ministers to be "upfront about what the data is telling them" on how the vaccination programme has affected hospitalisation from Covid.
Almost all restrictions to daily life were lifted after Wales was placed under Alert Level Zero on 7 August, with official social distancing laws scrapped and limits on who can meet coming to an end.
Mark Drakeford confirmed on Friday that no significant changes would be made to restrictions, but warned the "public health position is worse than it was three weeks ago".
He said the case for vaccine certificates to enter "higher risk settings" - such as nightclubs - would be considered again when restrictions were reviewed on 16 September.
While Wales' Covid case rate and numbers are the highest since January, Public Health Wales figures show deaths and hospital admissions remain much lower due to the vaccine rollout.
And rising cases were anticipated with restrictions easing and people mixing more.
Swansea and Neath Port Talbot have Wales' highest case rates and it comes after the local health board said 80 cases were tracked to people going out to a "dozen pubs, nightclubs and celebration venues".
Dr Williams, who works at a practice in Skewen, Neath Port Talbot, said people not getting vaccinated were "the biggest problem" and the only way to bring down case rates was to "restrict" what unvaccinated people do.
"They cannot go to pubs and restaurants with other people," said Dr Williams.
"And they cannot go on holiday because of the risk of infection and also maybe not go into the workplace as well - to work at home.
"I think you have to do that to stop this virus spreading any further."
Dr Williams said anti-vaccination conspiracy theories were causing issues, and while you could not make people have the jab, it was possible to convince them.
"Most people, when you do discuss it with them, actually have the vaccine," she said.
"I think the public messaging has been good enough but you're always going to have some doubters, that's the problem."
Wales' Health Minister Eluned Morgan told BBC Radio Wales Breakfast: "We are concerned by the increasing rates but that fits in with the modelling that we had predicted and the comforting part of this is that we are not seeing those cases translate into hospitalisations at the rate we were seeing in December.
"At this point I think it is important that we hold our nerve, that people take precautions so we don't see it spreading further than necessary and that people stay outside if possible over the bank holiday weekend simply because we know that the virus is less likely to transmit outside."
Ms Morgan added that Wales was ready to see booster jabs introduced in September, if the JCVI recommends it.
She also pleaded with younger people to get their vaccine as more events take place over the summer.
More than 2.1 million people have had both doses of the Covid jab in Wales, however take up remains relatively low among young people.
Almost 370,000 18 to 29-year-olds have had their first jab - or 76.2%.
Almost 57% of 16 and 17 year-olds have now had their first jab, since invites began being sent out at the start of this month.
Sion Lingard, health protection consultant at Swansea Bay University Health Board, urged people to leave venues if they "feel stuffy" as they might not be well-ventilated and the virus could be circulating.
"Consider going somewhere else, or stay outside," they said.
So far, 74.3% of 18 to 29-year-olds in the Swansea Bay health board area have had a first dose of vaccine - leaving 15,563 in that age group who have not had it.
Altogether, 43,335 adults in Swansea Bay had not taken up a vaccine (by last Sunday).
While many rules in Wales have now been relaxed, the wearing of face coverings is still required by law on public transport and in shops, and health care settings.
Social distancing laws, and limits on who you can meet have also been removed, but measures remain in some places with businesses required to put measures in place to help keep staff and customers safe.
At their three weekly review of Covid restrictions, the Welsh government made small changes to rules were announced allowing brides and grooms, and guests, to remove masks for ceremonies.
The Welsh government said the small change helped to "simplify and clarify existing rules".
However, with case rates continuing to rise, Mr Drakeford urged people to "keep taking precautions to ensure the progress we have won is not lost".
"Getting vaccinated remains one of the very best defences we have," he said.
"If you haven't already, then please take up the offer and join more than 2.1 million people in Wales who've had a full course to protect themselves and to protect others."
Mr Drakeford called on everyone to take "everyday steps", where possible, to keep each other safe, including meeting others outdoors instead of indoors, or keeping a distance from others when out.
"If you are with people indoors then opening a window to let fresh air into the room will mean the virus is less likely to spread," he said.
"We are still asking people to work from home wherever possible."
What do opposition parties say about the latest review of restrictions?
A spokesperson for the Welsh Conservatives said they had expected no changes "given the current public health situation", adding: "We have made great strides in the fight against coronavirus thanks to Britain's fantastic vaccination programme, which has severely weakened the link between infection and hospitalisation."
"The priority for all governments, of all colours, should be our recovery - in the economy, society, and public services - and maintaining the great progress we've made over the past few months," the spokesperson added.
Sian Gwenllian, Plaid Cymru's deputy leader in the Senedd said: "All through the pandemic we've highlighted the importance of good, clear communication from the Welsh government.
"Now, at a time when cases are again on the rise, it is vitally important that the Welsh government is upfront about what the data is telling them - specifically on how the vaccination programme has impacted on the number of people requiring hospital treatment from Covid."