Covid: New Wales school guidance flabby, says trade union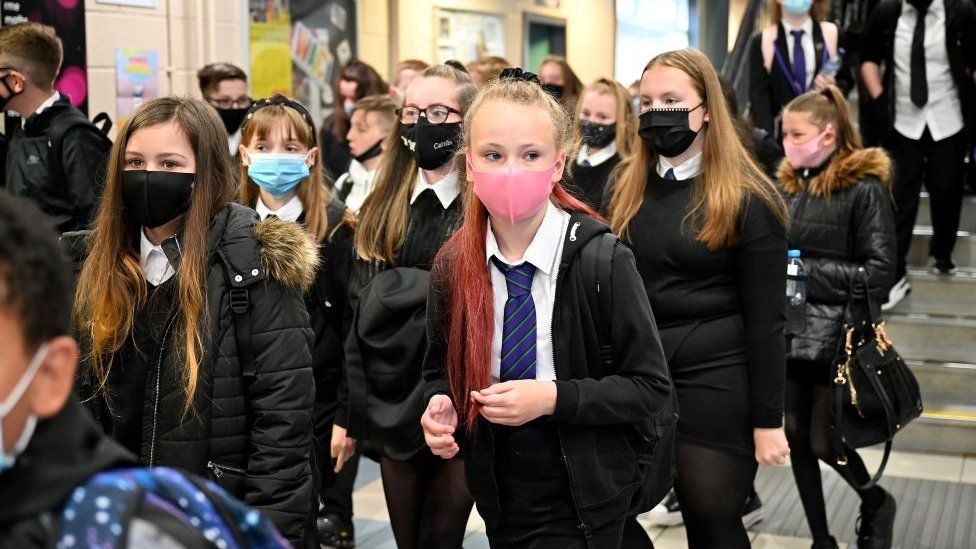 New Covid guidance advising schools how to operate from the autumn term has been criticised by a teaching union.
Eithne Hughes, director of ASCL Cymru, called the framework "flabby", "vague in the extreme" and said it would be difficult to interpret.
Schools have been told rules on Covid tests, face masks a social distancing should be escalated or eased depending on the risks to pupils and staff.
Schools now have two weeks to replace the existing rules with these.
Ms Hughes said: "This flabby guidance is vague in the extreme and will be very difficult for school and college leaders to interpret.
"Clarity of communication is vital for an ordered full return to education."
"This new guidance, issued just days before education leaders and learners return for the autumn term, offers little practical assistance or clarity and is largely down to local interpretation," she said.
The union welcomed "flexibility" but said detailed support for leaders was missing from the guidance.
Ms Hughes said: "The education minister's announcement earlier this week that all students will be required to take lateral flow tests twice a week appears to be in direct contradiction of the guidance issued today and further clouds an already confusing picture."
NAHT Cymru agreed parts of the guidance were "contradictory and likely to lead to confusion".
Laura Doel, the union's director, said: "Stating that operations should return to 'business as usual' seems out of step, given that Covid-19 cases are rising and the first minister says he won't rule out further restrictions coming back into place.
"Vaccination take-up in Wales is high, but it won't stop people getting Covid and it won't stop teachers and learners having to take time away from the classroom if they contract the virus.
"We fail to see how school leaders are going to pick up this framework and know what to do, which will leave us once again turning to local authorities for support in establishing local-authority-wide approaches to give some level of consistency and support to schools."
The new rules take effect from 1 September and the Welsh government said they should be adopted by September 20 at the latest.
Education Minister Jeremy Miles said the rules consisted of "core measures that should be in place, regardless of the risk level, and variable measures that may be tailored to reflect the level of risk identified".
Schools would be supported by public health officials and local authorities, Mr Miles added, saying he hoped they would "enable education to operate as 'business as usual' as far as possible."
If a school differed from the national risk level because of a cluster of cases, it would be supported to review its risk assessment and put tailored measures in place.
In July, Mr Miles announced contact groups and face coverings would no longer be routinely recommended in classrooms or colleges.