Welsh Labour and Plaid Cymru in Senedd co-operation talks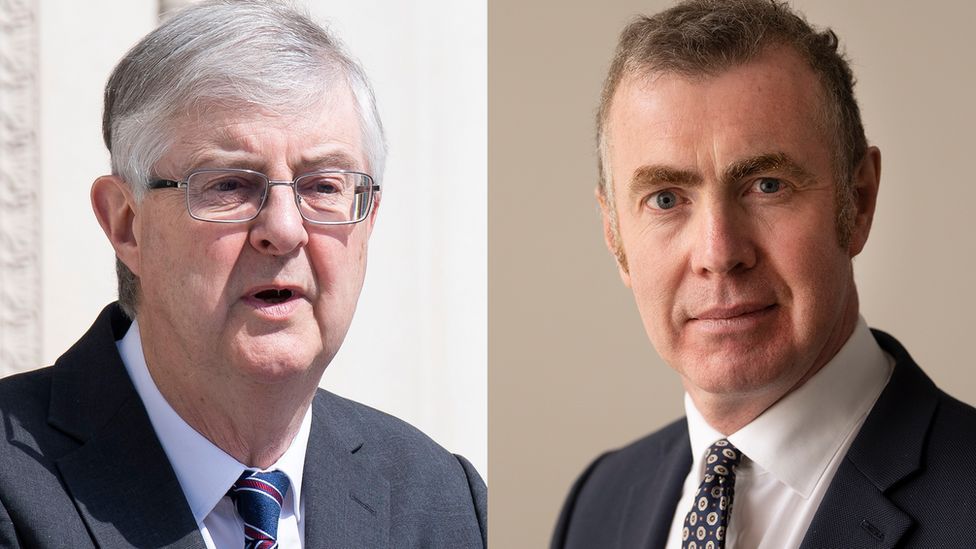 Labour Welsh government ministers and Plaid Cymru are in talks over a potential co-operation agreement in the Senedd.
A statement from the two groups on Tuesday said they are looking at where they can work together.
Labour won the Welsh Parliament election in May but did not win a majority.
It means votes from opposition parties are needed to pass votes in the Senedd, such as for budgets and laws.
The Welsh Conservatives dubbed the talks a "stitch-up".
BBC Wales was told that the two sides are not discussing a coalition, and Plaid are not expected to be entering government.
The statement said there had been "constructive initial discussions" between Plaid and Labour ministers, "exploring ways of building a more equal, just and democratic nation for all".
It added: "These discussions are continuing to explore an ambitious co-operation agreement to be based around a number of defined policy priorities and the governance arrangements on which Plaid Cymru and the Labour Welsh government can work together to deliver for Wales."
The results of the 2021 Senedd election gave Welsh Labour with 30 seats, enough to put Mark Drakeford back in power as first minister but not enough to fully control the 60 seat chamber.
Welsh Labour formed a new government with no challenge from the opposition.
The first rule of politics, according to the former US President Lyndon B Johnson, is to learn to count.
Mark Drakeford, leader of a Labour group with 30 of the 60 Senedd seats, has clearly calculated it is in his best interests to bump up those numbers.
In the short time since May's election, he's been reminded of the political reality of governing without a majority - a tied symbolic vote on new rules aimed at tackling river pollution and a forced U-turn on the Llandeilo bypass following a gentle reminder from Plaid Cymru that it had been a part of a previous budget deal.
The potential deal gives Mr Drakeford political cover and the requisite numbers to push through some potentially difficult policies before he stands down as leader in a few years.
I would imagine additional Senedd members, social care reform, and a change to council tax and/or business rates are in the mix.
For Plaid, sources suggest it's better to make a deal and deliver on key policies than carp from the sides for another five years.
That's the thinking but there's still some talking to be done before it's a done deal.
The two parties have worked together in the Senedd before.
Plaid Cymru went into coalition government with Labour between 2007 and 2011.
After the 2016 election the party agreed to a "compact" co-operation deal with Labour, allowing Carwyn Jones to return as first minister. The compact ended in 2017, although Plaid supported the Welsh budget a year after that.
The news prompted criticism from the Conservatives.
Their Senedd leader, Andrew RT Davies, said: "You only need look at Welsh Labour's policy programme to see how out of ideas it is. But turning to nationalists with no mandate is an act of desperation and lunacy."
But Welsh Labour backbencher Alun Davies welcomed the news: "We need the mature politics of agreement on the values and policies we share whilst still debating where we disagree."
There had been speculation following the election over whether Welsh Liberal Democrat Jane Dodds would co-operate with the government.
She said: "Against a backdrop of job insecurity, the rising cost of living, and the coronavirus, people across Wales need to see in practice what this agreement will mean for their everyday lives."