Covid: People in Wales urged to test before going out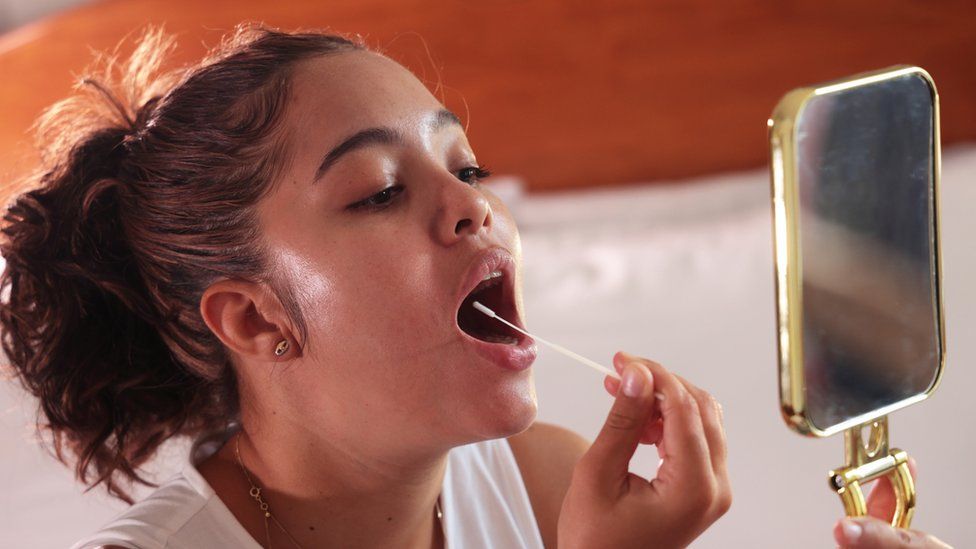 People in Wales going to Christmas shopping or to parties are being asked to take a lateral flow test to help protect others against Covid.
The Welsh government is asking everyone to use the tests before going to crowded places or visiting others.
People are also being asked to wear masks in pubs when not eating or drinking.
The new advice comes as officials prepare for an expected large wave of cases linked to the Omicron variant.
But the latest Welsh Covid review will not see any major changes to the country's regulations.
Nine cases of the Omicron variant have been found in Wales so far, but the coronavirus variant is thought to be more transmissible than Delta, which currently dominates in the UK.
First Minister Mark Drakeford appealed to people to take a booster shot if offered one.
The Welsh NHS is expanding the booster programme to all adults in response to Omicron, with a target to offer everyone a booster by the end of January.
Mr Drakeford said: "Every single vaccination is a small victory against the virus - so please make getting your vaccine or booster a priority."
There will be no major changes to Wales' Covid regulations, with the country to stay under "alert level zero" rules when Mark Drakeford announces his latest coronavirus review on Friday.
Instead, the Welsh government called for people to take a lateral flow test before "going out".
It recommended using the tests before going to a Christmas party, shopping, visiting friends or family, going to any crowded or busy place, or before travelling.
If the test is positive, individuals should stay home, arrange for a PCR test and self-isolate.
Boxes of lateral flow tests, which produce results within 20 minutes, can be obtained online, through pharmacies and local collection points.
Guidance on face masks is also being widened, and coverings will be recommended in pubs and restaurants when people are not eating or drinking.
However it is understood the law on face coverings - which requires them to be worn in most indoor public places except pubs and restaurants - will not change.
There had been concern that Covid passes - which show whether someone has been doubled vaccinated or has had a negative lateral flow test - could be extended to pubs and restaurants.
But that is not happening as part of Friday's review of restrictions.
Earlier this week the Welsh Independent Restaurant Collective urged the Welsh government to cut business rates for hospitality by 50% from April, as is happening in England.
It had warned measures like Covid passports would lead to additional costs for hospitality businesses.
Owen Morgan, owner of Bar 44 and Asador 44 restaurants south Wales and Bristol, earlier this week said his business had seen 60 cancellations, costing "tends of thousands".
James Sommerin, who runs restaurants in Penarth and Barry, said he had his fingers crossed there are no changes in restrictions, saying it was a nervous time.
"We have two weeks left before Christmas, it's a big investment time for a lot of restaurants, there are plenty of parties and you've got to have a lot of stock in."
A woman who was told to shield at the start of the pandemic says the shielding group was being "forgotten".
Melanie Duddridge, 49, from Cardiff, who has fibromyalgia and Crohn's disease, said she was still being cautious.
"There's nothing there now because shielding isn't mandated, there's nothing there now put in place to help us."
She is taking her own decisions for her safety and called on governments to offer more support.
"I've had issues with depression and loneliness because I feel like I'm possibly the only person making the kinds of decisions that I am," she added.
A Welsh government spokesman said: "We know that some people in this group are feeling anxious - the chief medical officer has previously written to those who are clinically extremely vulnerable and have been on the shielding patient list to give them advice about how to reduce their risks of exposure to coronavirus."
Welsh Conservative and Shadow Health Minister Russell George said he was pleased no major restrictions will be introduced on Friday.
He added: "We know vaccinations are the key to a society living with coronavirus, so it's vital Labour ministers now use this period to ramp up the booster programme to protect lives and ensure we keep our hard-earned success."