Covid in Wales: What does Omicron mean for Christmas?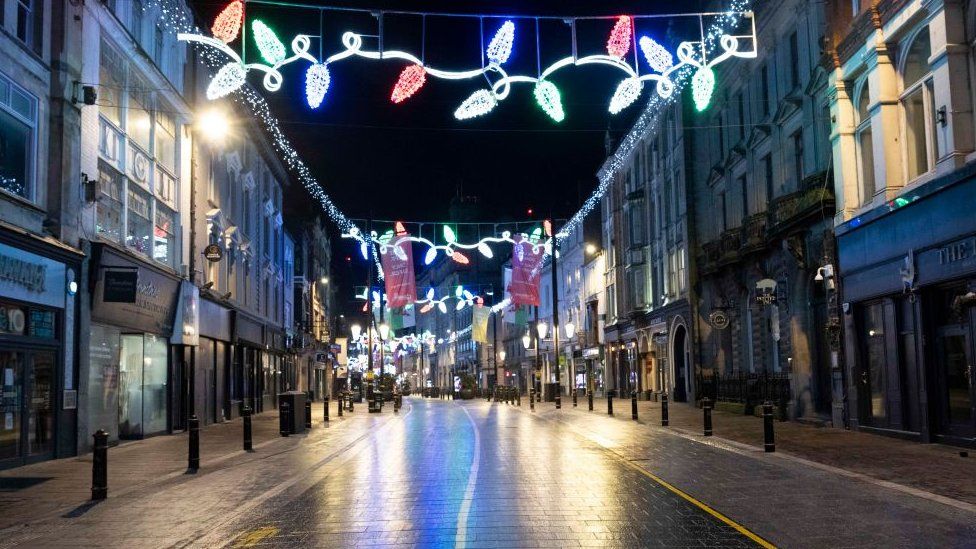 Events are moving quickly as the Omicron variant of coronavirus spreads across the UK.
We do not know how Wales will react - but it is clear ministers in Cardiff are considering re-imposing some rules.
It could not come at a more difficult time for many, with the Christmas and New Year festivities looming.
What it means is a possible return to the restrictions on our lives that many thought we had seen the end of.
At the same time, our booster programme is being ramped up to get more jabs in arms - with two vaccinations not thought enough to fight Omicron.
Will Wales reimpose restrictions?
Ministers have already said new rules are likely within the next few weeks.
They have announced a weekly cycle of Covid rule reviews, which in theory means there will be two before Christmas Day.
It means it is not yet clear what the rules will be over the festive period.
How could Wales' Covid rules change?
We heard on Monday morning that a return to a stay-at-home lockdown is unlikely.
But they may look at a return to laws restricting social contact in an effort to reduce the potential for the virus to spread.
That could mean household bubbles - where households must pick one or two households to mix indoors with, and stick to it.
It could mean a return to the rule of six meeting indoors in pubs or restaurants, or rules requiring social distancing in businesses.
But this is speculation and we will not know more until ministers announce the outcome of their first review.
Will ministers close businesses like pubs?
Without money from the UK government for things like furlough, this is really difficult for the Welsh government to do.
Devolved governments like the one based in Cardiff are not able to summon vast sums of money in the way the UK government can.
Currently the UK government is not talking about supporting similar restrictions in England. Without the backing of Westminster it is a drastic prospect for a Welsh government to order businesses shut.
How can I get my booster in Wales?
All adults in the UK are now being offered a booster at least three months after their second dose.
The Welsh government had aimed to offer all adults a jab by the end of January, but this is being sped up and officials want to do so a month earlier.
Unlike England, Wales is not running walk-in centres where people can simply show up for their jab.
Instead its official advice is to wait for your appointment, with health boards giving priority to older adults or those in an at-risk group.
So far 51% of those eligible have received their third dose or booster, compared to 56% in Scotland, 53% in England and 45% in Northern Ireland.
Currently the programme in Wales is still calling people, in order, for appointments who are six months from their second dose, and Wales has now reached 80% of those.
How could I protect other people? What are the rules now?
The law requires people to wear masks in indoor public places like shops, hospitals and social care.
The Welsh government is now also asking people to wear masks when they are not eating and drinking in pubs and restaurants.
It has also encouraged people to use lateral flow tests before going out to see others, going Christmas shopping or into crowded places.