Covid in Wales: Restrictions to ease after Omicron peak
Most restrictions in Wales will be scrapped over the next two weeks if Covid cases continue to fall, the first minister has confirmed.
Mark Drakeford said Omicron cases had fallen "rapidly" and the rules could now be relaxed "gradually".
The Welsh government also pointed to the success of the booster campaign in enabling it to lift restrictions, with 1.8 million people having received an extra vaccine dose.
There will be a four stage process to lifting the current alert level two restrictions in Wales, depending on cases remaining low:
Saturday: Numbers allowed to attend an outdoor event will rise from 50 to 500
Friday 21 January: Crowds allowed to return to sporting events, paving the way for rugby Six Nations full houses in Cardiff, and no limits on those attending outdoor events
Friday 28 January: Nightclubs can reopen and hospitality allowed to operate normally, although Covid passes will still be required for large events, plus cinemas, nightclubs and theatres. Working from home no longer a legal requirement
Thursday 10 February: Wales returns to a three-week review cycle as the country is at alert level zero
"The actions we have taken together have helped us to weather the Omicron storm. The latest data suggests some positive signs that the peak may have passed," Mr Drakeford said.
"We can now look more confidently to the future and plan to start gradually removing the alert level two restrictions, starting with the outdoors measures.
"But the pandemic is not over. We will closely monitor the public health situation - this is a fast-moving and volatile variant, which could change suddenly. I urge everyone to continue to follow the rules and have your vaccines to keep Wales safe."
Nightclubs were closed, and events were limited to a maximum of 50 people outdoors and 30 people indoors.
Pubs and restaurants were also restricted to table service, with the rule of six in place, while workplaces and shops were required to impose social distancing measures.
Both the Conservatives and Plaid Cymru had called for a roadmap out of restrictions, while the Welsh Rugby Union had been considering moving home fixtures for the Six Nations out of Wales.
Speaking on BBC Radio 4's Today programme, Mr Drakeford denied the move to relax restrictions was a "U-turn", adding: "Not at all. It's really the opposite of that.
"What we do in Wales is we follow the science, we follow the data. We make difficult decisions when that is necessary."
He added: "What we are seeing is a very rapid decline of the number of cases in Wales. Last Friday in Wales it was 2,300 cases per 100,000 of the Welsh population, today, only a week later, it is only 1,200."
Mark Drakeford has rejected any suggestions of a U-turn in his approach to these restrictions - he insists the scientific advice he received suggested four weeks of tougher restrictions and he says today's announcement is in line with that time period.
He also points out that the Covid numbers have dropped rapidly in the last week.
The report from the Welsh government's Technical Advisory Cell before Christmas did talk about four weeks of restrictions, and numbers have plummeted, but it's also the case that we've seen an abrupt change in approach from Welsh ministers over the last couple of days.
On Tuesday in the Senedd, in response to Welsh Tory demands for a plan out of alert level two, the first minister quoted modelling saying that "the peak of the Omicron coronavirus wave has yet to be reached in Wales", he talked about the number of people suffering from Omicron "going up not coming down" and he raised only a heavily caveated possibility of beginning to lift restrictions at the end of next week.
At this time, the stats were showing a drop in cases, though Mr Drakeford said the change in the rules over testing meant it was difficult to know whether these were "genuine falls" or simply a result of fewer people getting PCR tests.
By Thursday, the health minister was striking a much more optimistic note talking about "very positive signs" that Wales was "possibly turning the corner" on this wave and restrictions will now begin to be lifted this weekend.
Today, the cautious tone remains, as you'd expect, but the dogmatism of last Friday's review - where those calling for an easing of restrictions were described as "fundamentally wrong" - has been abandoned as has the pessimism of Tuesday's position.
What is the Covid case rate in Wales?
Wales' case rate has fallen to its lowest level since 26 December - 1,274.2 per 100,000 people over seven days.
This decline is sooner - and deeper - than a modelled scenario presented only a week ago.
Hospital numbers have fallen for two days in a row, although there are still on average a third more patients with confirmed Covid than the week before. It has also emerged that more than half of these patients were in hospital being treated for another primary condition.
Numbers of Covid patients in critical care remain stable though and at 21% below the peak seen a year ago.
What has the reaction been?
The move to relax restrictions on pubs and restaurants has been welcomed, but there have been warnings that some businesses will struggle to recover after losing trade over the festive period.
"Every day of trading counts because everyone wants to trade their way to recover," said chief executive of the Welsh Beer and Pub Association Emma McClarkin.
Parkrun boss, Tom Williams, said he did not think his business should have been impacted in the last round of restrictions.
He said: "We have known since the beginning of the pandemic that physical activity and health are incredibly important when dealing with the Covid infection, and we have known for a while that outdoor environments are incredibly safe."
Its Vice Chairman Jim Green said he was pleased the club's fans would be able to go to the next home game, but believed this should always have been the case.
"We're still determined to find a long-term solution," he said.
Welsh Conservative Senedd leader Andrew RT Davies said: "I'm pleased they've finally listened to calls from the Welsh Conservatives.
"Despite the detailed scientific evidence from South Africa, Labour ministers clearly overreacted to Omicron, and that has caused significant pain and anguish for families and businesses in Wales.
The move comes despite Mr Drakeford saying last Tuesday that Wales was "in the teeth of the Omicron storm".
Plaid Cymru's Rhun ap Iorwerth said: "If, as it seems, we are indeed at the peak, the right thing to do is see how we can safely respond.
"Raising the limit on outdoor sporting events would be an obvious place to start, moving as swiftly as the continuing improved picture allows in coming days, to lifting other restrictions such as those in hospitality."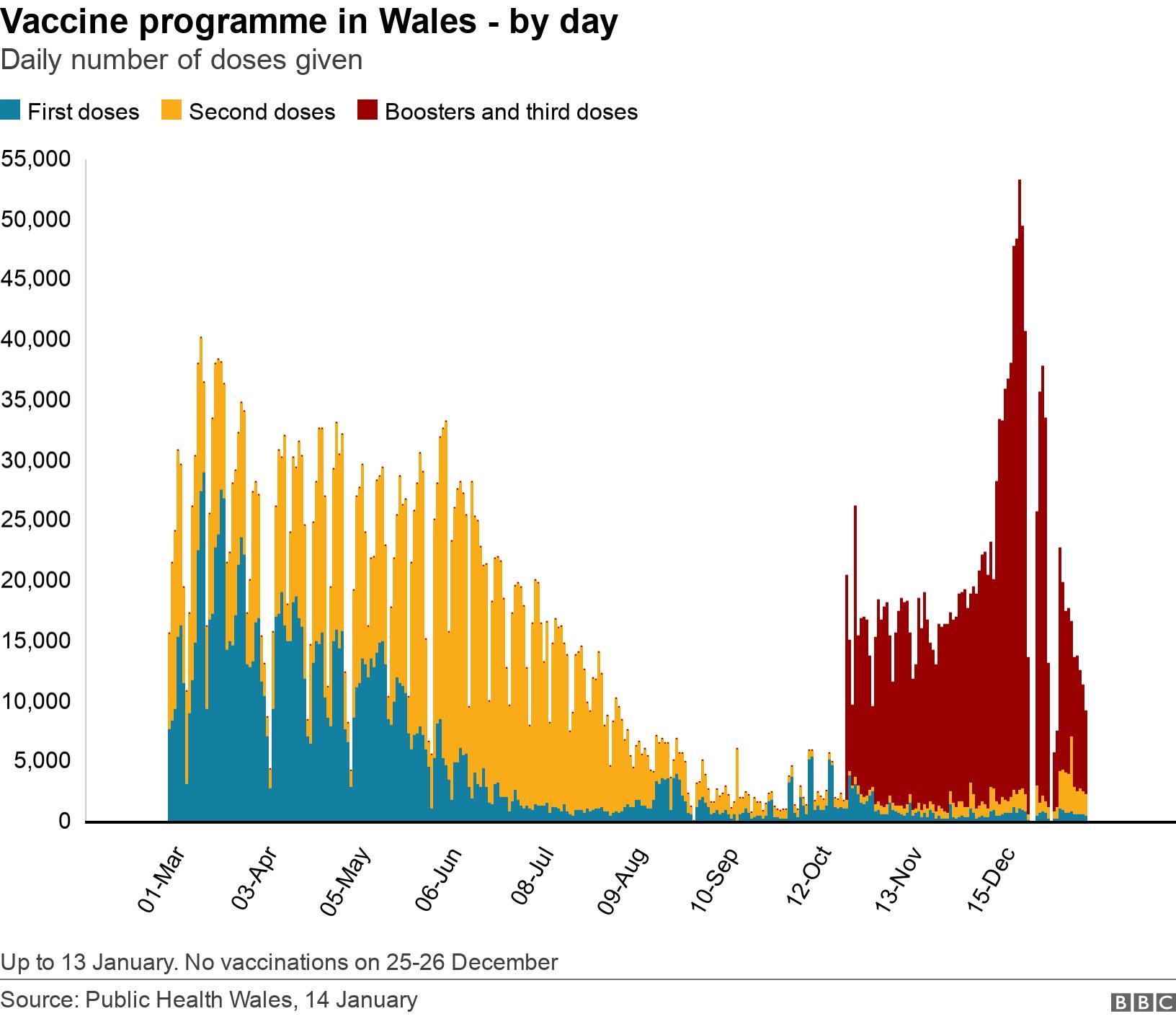 Wales has now reached 81% of those eligible for boosters in the Covid vaccination programme, according to the latest figures from Public Health Wales.
A total of 1,817,842 boosters were given out by 13 January.