Ryder Cup history brought to life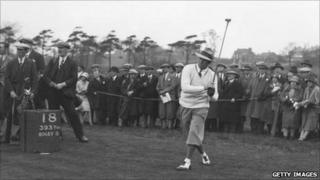 The 83-year history of the Ryder Cup golf tournament will be brought to life as part of the build up to the event in Newport this year.
Photographs of the first encounters in the 1920s are included in an exhibition which will visit Newport and Cardiff.
The display also includes signed programmes, golf equipment, team gifts and even Ryder Cup menus.
The Ryder Cup is due to take place at the Celtic Manor Resort from 1-3 October.
The exhibition, which starts on 24 July, will visit the Riverfront theatre and arts centre in Newport, National Museum Cardiff and the tented village at the Celtic Manor Resort.
Rob Holt, chief executive of Ryder Cup Wales, said: "There will be many opportunities for the Welsh public and visitors to the area to share in the experience of the 2010 Ryder Cup, one of which will be a chance to go and see, at one of two city centre venues, a fascinating display of Ryder Cup memorabilia.
"In order to get a great taste of the event from years gone by, I urge everyone to make time to go along and take a look."
The Ryder Cup is said to have been created after seed merchant Samuel Ryder watched a pre-Open qualifying tournament and was dismayed to see American and British golfers standing apart from each other.
He is said to have set up the competition in an attempt to inject a touch of friendly rivalry.
The first Ryder Cup matches were played at Worcester Country Club, Massachusetts, in 1927, with the American team beating Great Britain.
The event was suspended during World War II, but the US retained the trophy from its 1937 victory.
American dominance continued until 1979 when European professionals were invited to join the contest alongside Great Britain.
The USA v Europe competition is now one of the most keenly contested in sport.
Ryder Cup veteran and golf commentator Peter Allis said: "It's very special. My father and I were the first father and son to play in the Ryder Cup - not at the same time obviously.
'Too passionate'
"He was around in 1927 when it started - [but] you had this residents' rule then and he was a pro in Berlin so they [Great Britain] played the Ryder Cup matches without their three best players.
"I played in eight [Ryder Cups] and the old man played in three or four."
He added the event had got "very big" and could perhaps be "too passionate" but was still special.
David Wright, of The Professional Golfers' Association, said the exhibition would give visitors a "fascinating insight" into the event's history.
He said: "This exhibition brings to life the rich heritage of golf's greatest team event."