Newbridge greyhound racer's disability allowance claim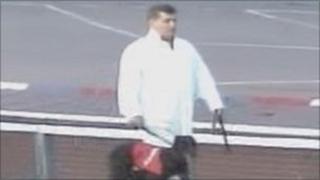 A man was filmed at greyhound race, while still claiming disability living allowance after his condition eased.
Derek Davy, 67, of Hafodyrynys, near Newbridge, Caerphilly county, admitted receiving more than £3,700 since 2006.
Newport Crown Court heard that the Department for Work and Pensions (DWP) investigated Davy and secretly filmed him at the greyhound event in Coventry.
Davy was sentenced on Monday and given a conditional discharge for two years. He must pay £100 costs.
The court was told he had claimed disability living allowance since 1998, saying he could not walk any distance without experiencing pain.
He also could not stand up for long periods and used a walking stick.
But his condition had eased, the court heard, and he had pleaded guilty at a previous hearing to failing to notify the DWP of a change in his circumstances.
Timothy Evans, prosecuting, said the DWP investigated Davy in 2006 following information from members of the public and "it was plain the defendant wasn't as disabled as he was originally claiming".
The DWP was told that Davy and his wife, who has since died, appeared to be managing a racing kennels, said Mr Evans.
"In video footage, Mr Davy was seen carrying a bucket after mucking out the dogs and carrying cumbersome bags out of the back of his car," said Mr Evans.
"He was seen at a racing greyhound event in Coventry where he did not appear to be suffering from any kind of discomfort."
Mr Evans said the defendant was interviewed by the DWP in 2007 and admitted he did not take painkillers every day.
He also said he had been involved in greyhounds for a long time, but as a hobby.
'Serious matter'
Defending, David Elias, said Davy was taking the same medication he had always taken and there had been side effects.
He said Davy's claim had not been fraudulent from the outset and he had pleaded guilty at the first opportunity.
"At the time of the indictment he had some good days and some bad days which wasn't the position he was in initially," he said.
He added: "It [greyhound racing] was not a business, it was a hobby. He made no money out of it."
Judge Philip Richards said the case was a "serious matter" because Davy had "dishonestly obtained public money".
Davy was conditionally discharged for two years and ordered to pay £100 costs. He has also been paying the DWP the money back.
The DWP said after the case that Davy was paying back almost £24,000 in overpayments in disability living allowance made since 1998, including the £3,700.
DWP spokesperson Mike Davies said: "Clearly, theft against the Department for Work and Pensions is a criminal offence and we will continue to act on information provided by the public, as in this case, to root out theft of public funds."