Mother's fury as Cardiff teen's attackers sentenced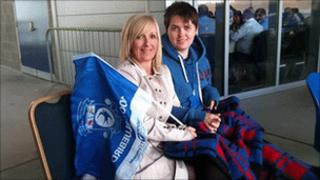 The mother of a teenager left in a coma after he was hit over the head with a bottle on holiday has criticised the sentence handed to his attacker.
Alex Hughes from Cardiff was 16 when he suffered a brain haemorrhage after being assaulted in Majorca in 2009.
At a juvenile court in Palma on Wednesday his attacker was ordered to carry out 80 hours community service.
Alex's mother Helen hit out at the sentence, saying the incident had "wrecked" her son's life.
Alex, now 17, from Radyr, was on holiday on the island when he was attacked as he left a night-club.
He came out of his coma after five weeks in intensive care but now needs round the clock care.
Mrs Hughes flew out to the Spanish island especially for the case, which took place in a youth court, where there was no public access.
Alex's attacker appeared in court with two other youths arrested over the incident but was not imprisoned because he had already spent three months in custody.
Mrs Hughes told the BBC the sentence had been a shock to her and had left Alex 'very upset'.
She said: "He was very emotional. He didn't think that the person who hurt him got enough or that justice was done.
"Why should he be in this situation and they seem to walk free without a care in the world?
"People say they feel forgiveness but I can't find any part of me to forgive those people - they wrecked my child's life."
Mrs Hughes said her son was nothing like the carefree 16-year-old he had been before the attack.
His injuries left him needing life-saving surgery in Spain to reduce the swelling on his brain. He was then placed in a medically-induced coma and brought home to Cardiff.
He has since undergone intensive rehabiliation and has slowly regained much of his speech, although he is still learning to walk again.
Mrs Hughes said: "He is not that independent and needs 24-hour supervision.
"When your son is still in hospital a year later and finding it hard to learn to walk again and still needs surgery on his hands, there is no line drawn under it at all.
"This nightmare is still ongoing and will be for a long, long time."