Cardiff scientist awarded £1m for cell research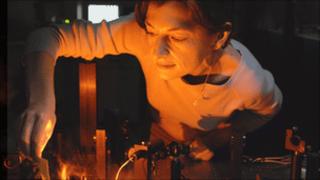 A researcher at Cardiff University has scooped £1.1m to study living cells in minute detail.
The money will go to Dr Paola Borri, who works in the school of biosciences.
The grant will fund the development of technology to allows cell particles, not visible to the human eye, to be examined more accurately than before.
If successful, a range of biological and medical problems which are currently not possible to study could be looked at.
This could provide more reliable information about cell membranes which could help treat diseases like Alzheimer's, HIV and influenza.
Dr Borri was awarded the money through the Engineering and Physical Sciences Research Council (EPSRC).
The council's leadership awards aim to support the work of talented researchers who have the capacity to become international leaders in their field.
Dr Borri said: "I feel highly honoured to have received such an award.
"This research will progress the field of optical microscopy, advance our understanding in physics and material sciences, and will tackle biomedical problems that are virtually impossible to address with currently available techniques."
The cash will fund Dr Borri to undertake a five-year project with a post-doctoral programme, two PHD student assistants and equipment for the duration.
The project will focus on using light to visualise cells and understand their chemical composition at a level beyond what can be seen by an optical microscope.
The method will mean there is no need for fluorescent staining, which is used in current techniques and can artificially modify cells, affecting their toxicity.
'Huge benefits'
This could have huge benefits for helping with IVF and cancer research, where fluourophore labelling cannot be used.
The school of biosciences at Cardiff University is backing the award by introducing a lecturership post as part of the team.
Professor Ole Petersen, director of the school of biosciences, said: "This award is a tremendous success for Paola and we are delighted for her.
"These awards are extremely keenly competed for.
"This research programme promises to help scientists solve a whole array of difficult questions - and also to establish Paola among the very best in the world in her field."