Redundancy cash Pontypridd bakery in closure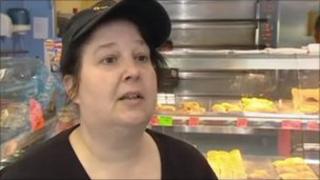 A woman who used her redundancy money to set up a bakery says has been forced to close after the lease on her shop was not extended.
Lyn Quick opened Quick Bites in Pontypridd, Rhondda Cynon Taf, after her former employer Ferrari's bakery folded in 2008.
But she is shutting up shop after being served with a notice to quit.
She said: "I don't know what the future's going to hold for me - I've got to find work now."
Mrs Quick ploughed her family life savings into her bakery shop when she lost her job at Ferrari's.
She has built up a loyal following over the last year and says the business itself is a success.
She employs members of her own family and others in the shop. Now they are all looking for new jobs.
She said: "My husband's savings were in the company. We started off with very little. Every penny, we were gaining, we were putting back in. That's how we ran our business.
"I have filled in a few application forms. I haven't heard anything back as yet.
"But I have got to find work because I'm certainly not signing on the dole. Never.
"We're shutting our shutters for the very last time. I'm walking away."