Cardiff-based Calon TV goes into voluntary liquidation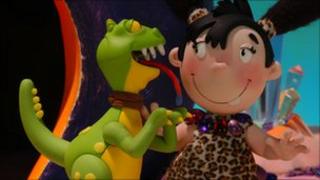 An animation firm which specialises in children's TV has announced plans to go into liquidation.
Calon TV, based in Butetown in Cardiff, said the move was necessary after a hoped-for investment in the company's future did not materialise.
The firm's latest series Igam Ogam, an animation about a cavegirl and her friends, is currently on S4C and Five's "Milkshake" children's segment.
Calon's TV programmes have sold to more than 100 countries across the world.
In the past it has scooped BAFTAs for shows like SuperTed, Under Milk Wood, Hilltop Hospital and Hana's Helpline.
The firm also owns some of the rights for the popular Welsh language character Sali Mali.
Igam Ogam hit the headlines when it was announced it would be narrated by Welsh actor Ioan Gruffudd.
A statement from the company said: "The directors of Calon have been in discussions regarding a significant investment to assist the company in its strategy of creating and exploiting intellectual property rights in the children's television market.
"The investment has not materialised and we have reluctantly taken the decision to initiate a process of voluntary liquidation.
"We have acted quickly in order to ensure that losses to suppliers are minimised.
"We will also do whatever we can to ensure that the value of the company's assets can be maximised."
Commercial Director Huw Walters stressed that the company's directors intended to remain in business in some shape.
He added: "We are looking forward and exploring options so Calon can continue in some form."
A spokesman for S4C said: "S4C has no comment about Calon's situation at present.
"However, we recognise the company's contribution worldwide in the area of children's programmes which is vitally important to S4C."
The company's latest venture, a puppet show called Zoo Factor, is due to be shown on CBBC.