Cardiff incinerator fight 'will continue' say residents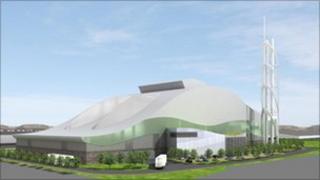 Residents in Cardiff will continue their fight against a planned waste-to-energy scheme despite it being given the go ahead by the environment agency.
The campaigners are opposed to the construction of a £150m incinerator plant in the Splott area of the city.
Residents have accused the agency of failing to consult up-to-date research on the health impact of incinerators.
The agency has said the plant will "not cause any significant risk to the health of people who live nearby".
It said it took health advice from the latest information provided by the Health Protection Agency.
'Draft decision'
More than 100 residents and environmental campaigners attended a public meeting on Tuesday night to discuss the Envrionment Agency's "draft decision" to approve the plans by Viridor Waste Management.
The plant has already received planning permisision from Cardiff council.
Environment Agency Wales said it carried out a rigorous 13-month investigation and received specialist advice on health related matters.
It concluded: "We can see no reason, at this stage, why Viridor should not be given an environmental permit."
The agency is now holding a 30-day public consultation on its decision.
However, campigners said the draft decision was "deeply flawed, based on incomplete and badly-interpreted evidence".
Raoul Bhambral, from Cardiff Friends of the Earth and a resident of Splott, said: "They have not seen fit to include recent studies into incinerator proximity and links to various cancers.
"People are very concerned about that."
Residents have also complained that Cardiff council failed to properly consult residents about the development.
Mr Bhambral said: "Cardiff council wrote to just 17 households, many of them businesses close to the plant's proposed locaton.
"They held one or two public consultations on obscure days, at obscure times in obscure venues. They did the bare minimum to consult with the public."
'Small number'
Gavin Cox, a Liberal Democrat councillor in the Splott area, said: "The consultation was not full and proper. The council has done no more than its statutory obligation to inform a small number of households."
A spokesperson for Cardiff council confirmed that the Planning department "consulted 17 neighbouring occupiers in the vicinity of the site and businesses on Ocean Way".
It said six site notices were put up at various locations including Splott Road, Bute Street and Muirton Road, and in the local press.
"The public consultation meetings were organised by Viridor before we received the planning application. Planning had no involvement, " the local authority said.
It is estimated that more than 250 lorries each day will deliver 350,000 tonnes of waste a year to the site, which will create enough energy to power 50,000 homes.
Campaigners have resolved to explore further legal routes for stopping the incinerator, including appealing to Welsh Assembly Environment Minister Jane Davidson.
'Rubbish problems'
The minister has already considered the application by Viridor to build the plant but decided it did not meet the criteria to be called in by the assembly government.
In a statement, the campaign, who have formally launched the Cardiff Stop the Incinerator group, said: "With public support, Viridor's incinerator can be stopped, and all of south Wales can pursue a greener, healthier alternative solution for its rubbish problems."
Environment Agency Wales said the local health board had been consulted to give specialist guidance.
"This means we can then decide whether the emissions levels set in the permit are likely to impact on human health," said a spokesman.
"As this is a draft decision, we will review it based on any new information put forward during this consultation period."
He said a public information session planned for Friday in the Star Centre in Splott was an opportunity for the public to find out more and make "any relevant comments", which can also be made by letter before 1 September, after which a final decision will be made.