Torfaen council uses DNA dye to tackle flytippers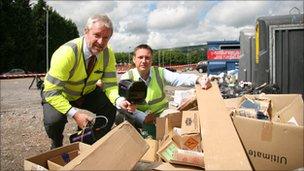 DNA chemical technology is being used to tackle flytippers and thefts from a council's premises.
Torfaen council says lorries stopped carrying debris and waste materials will be sprayed with a liquid containing a unique DNA code.
Drivers are then warned that if any of the material is later found flytipped, it can be traced back to their vehicle.
The council, the first in Wales to use the technology against flytippers, is also marking its office property.
The local authority said flytipping cost it £30,000 per year, in addition to thefts of £60,000 in the past two years.
Senior councillors have agreed a three-year deal costing £19,500 per annum with technology firm SmartWater.
Each container of SmartWater liquid has a unique chemical signature, meaning property can be traced to its owner.
A council spokesman said: "The majority of the operations will be overt, i.e. approaching companies directly and advising them we may (or will) mark their rubbish prior to them arranging to dispose of it.
"However, this will be backed up with a number of covert operations throughout the year, for example sting operations to trap a car thief or building theft."
The council is the fifth in Wales to use the chemical dye, after Cardiff, Swansea, Powys and Flintshire to mark its own property or help vulnerable groups to "postcode" theirs.
Where it is installed in buildings, the chemical dye can be sprayed over intruders and leave them marked with a colourless water which can be detected under UV light.
Wales' four police forces have used SmartWater and a number police stations - including St Asaph in the North Wales Police area, Newtown in Dyfed-Powys Police area and Ystrad Mynach in the Gwent Police area - are equipped to test for the substance on people who are arrested.
Torfaen council said it will use the liquid at 180 council buildings, including schools, and 150 vehicles as well as on IT equipment, machinery and all its lead roofing.
The spokesman added: "It is anticipated that the SmartWater initiative will not only work towards reducing the number of offences arising, but also help the council recover some of the continued costs through successfully prosecuting some of the offenders."
SmartWater said the technology had led to more than 1,000 convictions in England and Wales, with a 100% conviction rate.
Spokesman Dave Reynolds said the wider aim with Torfaen council was to deter flytippers and head off the cost of clearing dumped waste.
He said: "The enforcement checks happen anyway. A lot of the people who flytip are serial flytippers - it's how they make their money.
"The difficulty is being able to prove it was them. That's the key thing, where SmartWater plays a part, you can trace where this waste has come from."
Related Internet Links
The BBC is not responsible for the content of external sites.