Two charged after Cardiff railway line quad bike deaths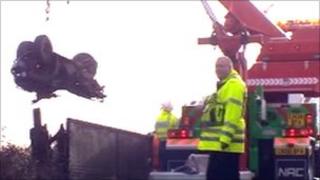 Two men will appear in court to face charges following a raid on Cardiff outdoor clothing shop, after which two others died on quad bikes.
Trevor Davies, 20, and David Cooper, 24, were killed during an apparent attempt to flee the scene.
The quad bikes were hit by an empty passenger train near Newport Road.
Two men, aged 23 and 21, will appear before Cardiff magistrates next Tuesday, charged with burglary and endangering lives on a railway.
There are accused of stealing £40,000 worth of jackets from the Go Outdoors site last December.
Following the raid, quad bikes carrying Mr Davies and Mr Cooper were struck by an empty passenger train on nearby rail tracks.
Another two men who had been arrested and bailed as part of the investigation have been told no further action will be taken against them.