Cardiff 'must improve night life' warns AM Morgan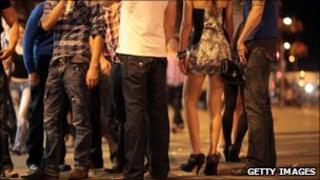 Cardiff needs to do more to attract its own residents into the city centre at night if it is to compete with others, says an assembly member.
Cardiff North AM Jonathan Morgan said the city experience was boosted by its new shopping centre but still relied too much on "cheap-looking nightclubs".
It comes as Cardiff Council launches an online survey on the city at night.
Meanwhile, the head of volunteer street pastors called the city's binge-drinking label "unfair".
Conservative AM Mr Morgan said he meets many people in the city who say they will "happily avoid the city centre at night as they don't feel there is anything there for them".
He said: "I'm not attracted to St Mary Street. I understand it has one of the largest number of licensed premises per square metre of anywhere in the country.
"It's an incredible number. We need to be doing more to provide a more diverse city.
"St Davids [shopping centre] has done a lot to change the character of the area - the rejuvenation of Mill Lane has been a success - but ultimately the city centre does need to change.
"It is still reliant on very large and cheap-looking night clubs. It lacks good quality restaurants and small cafe bars."
He cited Bristol and Glasgow as cities that had improved their experience for visitors.
His comments come at the Cardiff council runs an online survey Cardiff at Night asking people a series of questions about their experience of the city centre at night.
It aims to find out if the public think going into the city centre is welcoming, clean, safe, easy to get to and from and offers a mix of leisure and entertainment.
People will also be asked about their spending habits, whether they feel safe enough and if the presence of night-time ambassadors, who work on weekends, has helped or not.
Councillor Mohammed-Sarul Islam, chair of the night time economy task group, said the survey aimed to improve the city's night-time economy and ensure "that the negative things associated with it are reduced".
But Gary Smith, director of Cardiff's street pastors, said: "Cardiff is known as the binge drinking capital of the UK and I know that to be unfair."
He said the collaboration between his group and pub, club and bar security staff combined with a communication system that linked them all with the emergency services meant that people were "never more than three yards from someone who can help".
Mr Smith said the churches-led group currently had 38 trained volunteers who do one shift a month, with four or five people working each Friday and Saturday night.
He said: "I would have no hesitation in bringing my family to eat in Mill Lane on a busy weekend evening.
'Unprecedented low'
"Having met and worked with the people who run the businesses here over the last couple of years, I've seen how seriously safety is taken and I think we've come a long way from the awful portrayal of Cardiff in the national press."
South Wales Police Chief Supt Bob Tooby, divisional commander for Cardiff, said: "Crime in Cardiff is at an unprecedented low. People are safer than they have ever been.
"This is in no small part due to the hard work of the various partners working together to improve the city."