Two deny Cardiff burglary with quad bikes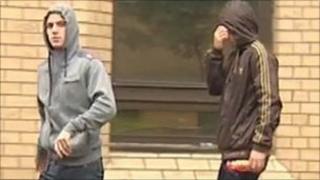 Two men have pleaded not guilty to a burglary on a clothing superstore using heavy-duty quad bikes.
Four men took part in an early morning raid in Cardiff last December.
Two of them were killed as they made their escape along the railway tracks when their quad bike collided with a train.
Anthony Thomas, 23, and Liam Xuereb, 21, both from Llanrumney, Cardiff, were released on unconditional bail by city magistrates.
They pleaded not guilty to burglary and endangering safety on a railway line.
The Go Outdoors superstore on Newport Road was raided last December.
The burglary was caught on CCTV as quad bikes were used to force entry to the rear of the shop, stealing £45,000 worth of "Gore-Tex-branded" jackets.
Prosecuting solicitor Kate Pidgeon told magistrates that four men made their escape on quad bikes along the railway line but two of them sadly lost their lives after colliding with an empty passenger train.
The two killed were named at the time as Trevor Davies, 20, and David Cooper, 24.
Ms Pidgeon said riding the quad bikes on the railway line could have caused the derailment of a train and endangered the lives of the driver and conductor.
The case has been adjourned until 14 September for a committal hearing to crown court.