Man jailed for throwing toddler against wall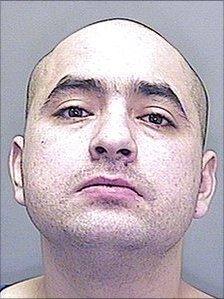 A man who twice threw a toddler against a wall because her mother rejected his marriage proposal has been jailed for six years.
Martin Kesel, 29, of St Mellons, Cardiff, inflicted 21 separate injuries on the two-year-old girl.
Cardiff Crown Court heard he attacked the child while she was sleeping and her mother tried to intervene.
A woman doctor who treated the child described it as the "most severe physical abuse I have ever examined".
The court was told the child, who cannot be named for legal reasons, had bruising, scratches, hair missing from her scalp and damage to one of her eyes when she was examined.
Kesel was found guilty of causing grievous bodily harm with intent.
At Thursday's sentencing, Prosecutor Hilary Roberts said: "The mother had turned down his offer of marriage before - but this time he went upstairs to where the child was sleeping.
"Kesel shouted at the child - then picked her up and threw her across the bed into a wall.
"When she bounced back onto the bed he picked her up again.
"The mother tried to stop him but she was pushed out of the room."
She added that as the little girl screamed, Kesel had put his hands over her mouth to try and stop her crying and swore at her as she sobbed.
"Then he pushed her head into the mattress and started striking her with her hand or fist."
The girl's mother, 22, was in court to give evidence and told how she had watched in horror as her daughter was flung against the wall.
She said: "The first time her whole body hit the wall, the second time it was mainly her face.
"I could hear her screams when he threw me into the next room."
The mother also told the court she was so frightened for her daughter's safety, she jumped from a first floor window to escape and ran to a nearby police station screaming for help.
On sentencing Kesel, Recorder Christopher Clee QC told him: "When your advances were rejected you took it out on the baby.
"When her mother tried to stop you, you pushed her out of the room and continued your vicious assault on a helpless child."
The court heard he has a criminal record in his country of birth, the Czech Republic.
Since he has lived in the UK he has been caught and convicted for drink driving three times.