Monmouthshire nurse sentenced for 'sloppy' treatment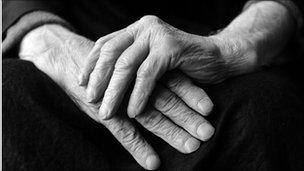 An ex-care home nurse who ill-treated two elderly patients has been sentenced to 50 hours' unpaid work.
Howard Griffiths, of Ebbw Vale, "shoved" and "pushed" a man, 85, and pulled a woman, 81, by her ankles, Newport Crown Court heard.
Griffiths, 53, who was a night manager at the Rozelle home, Abergavenny, was cleared of eight offences but convicted of two and told he had been "sloppy".
The judge accepted he meant no harm but called his actions "disturbing".
The court heard that Griffiths - a qualified psychiatric nurse for more than 30 years - frequently heaved the man, who suffered from senile dementia, out of his wheelchair while standing on his feet.
The jury was also told he pulled the woman, who also had dementia, out of her bed by her ankles until she was sitting on the edge of the mattress, rather than lowering the cot sides of the bed.
Care assistant Dawn Paull, had previously told the trial: "He would stand on Derek Gregory's toes and pull him up by his shirt and push him down on to the bed.
"When I was doing it there were two members of staff. We would never move him on our own, or we used a hoist."
She added she was "shocked" at the way the resident was being treated and said when Griffiths was transferring Mr Gregory from a chair to his wheelchair he would "shove" him into the seat.
Patrick Harrington QC, defending, said Griffiths' method of lifting Mr Gregory was "old-school nursing".
He said Griffiths hoped to return to nursing.
'Frustration and anxiety'
"It was a vocation in his life," said Mr Harrington.
"It was not just a job, it was not just a career, it was something he had thoroughly enjoyed doing."
Griffiths was sentenced to 50 hours' unpaid work for each offence of wilfully ill-treating or neglecting a person who lacked mental capacity, to run concurrently.
Judge David Morris said that while the offences were "disturbing", he was satisfied Griffiths meant no harm.
"The offences were borne out of frustration and anxiety to get on with the job," he said.
"I am also satisfied you knew you should not have acted in that manner with these patients.
"You allowed your standards to slip and indulged in sloppy nursing."