Welsh National Opera clears out its closet of costumes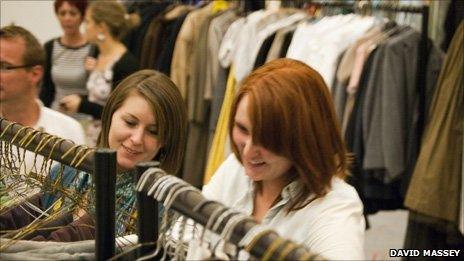 Welsh National Opera is flinging open the doors to its wardrobe and is selling off old costumes to the public.
The extensive collection includes everything from chain-mail to corsets, evening gowns to doublet and hose.
The costumes are from past productions including Rigoletto, Cosi Fan Tutte and Madame Butterfly.
Money raised from the sale, from 1000-1600 BST on Friday at the Wales Millennium Centre in Cardiff, will go into costumes for new shows.
Judith Russell, touring wardrobe manager at the WNO, said about 1,500 costumes, accessories and props were up for grabs.
She said: "The costumes range from 19th Century period dresses, kimonos, frock coats and even a full set of chain-mail, covering head to toe.
"We've also got a dress which was worn by Rebecca Evans, who was in Figaro. It is a beautiful royal blue period piece with bottom pads and crinoline - very full-skirted.
"We've got some kimonos from Madame Butterfly and evening dresses from the Merry Widow which are very pretty."
Those hoping to pick up a bargain may be in luck, as even the more valuable costumes have been significantly reduced.
Visitors to the sale will be asked to grab a rail and drape their chosen items on it. Full rails will then be charged at £500.
There is also a range of hats for sale, with horned helmets, feathered caps and fur hats.
The Phantom of Opera designer Maria Bjornson designed some of the costumes for the 1991 production of Ernani.
WNO is hoping that amateur theatre groups, colleges and other performing companies will buy some of the old stock.
But the sale is also open to opera fans who just want to own a piece of theatrical history.
As the WNO knows its repertoire 10 years in advance, costumiers are able to plan the wardrobe accordingly.
Any costumes not likely to be used in a cycle can be sold off or hired out to amateur dramatic groups.
Money raised from the sale will help towards the upkeep of WNO's current costumes.
Related Internet Links
The BBC is not responsible for the content of external sites.