Penarth gamers hope to blast away world record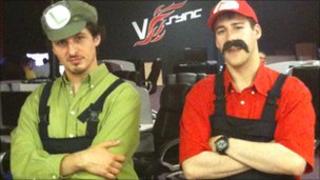 Three friends have made an attempt on the record for continuous play of a first-person shooter computer game.
James Johnson, Trystan Cook and John-Paul Rogers said they stayed online on Counter Strike for 38 hrs, 28 min.
Their bid to make the record books while raising money for cancer victims has yet to be verified by Guinness.
The friends, from Penarth, Vale of Glamorgan, said they began on Friday at 1100 BST, and ended just after 0215 on Sunday. The record is 32 hrs, 10 min.
They said they had been hoping for 60 hours, but John-Paul, 19, dozed off at the screen and his friends decided to finish at the same time.
While they were busy playing, two nights fell, James turned 26 and Trystan had his 29th birthday.
Both Trystan and James dressed up as the Super Mario Brothers, Mario and Luigi, for the challenge, which saw them raising money for Cancer Research, the Joshua Foundation and the Touch Trust.
They kept themselves awake with support and encouragement from friends, caffeine and "the occasional gentle slap".
The challenge took place at the V-Sync gaming centre in Richmond Road in Cardiff.
James said: "It was tough, even at 15 hours I was flagging, but we kept each other going.
"We were allowed a five-minute break every hour, but the pain in the wrists did set in early on.
"Trystan and I could have kept going, but we wanted to do it as a team."
The trio must now send their evidence to Guinness in the hope they can make the record books.