Cardiff and Vale LHB apology for two year hospital stay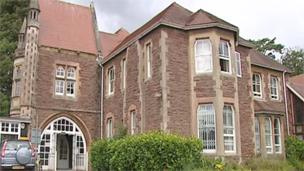 A woman who complained her adult son was hospitalised unnecessarily for two years is to receive £1,500 compensation.
The patient, with Huntington's disease, was admitted to Rookwood Hospital, Cardiff, for two weeks in August 2007. He was discharged in August 2009 and died last month.
The ombudsman upheld his mother's complaint over the Local Health Board being unable to agree a discharge.
The NHS apologised unreservedly.
The patient's father and sister had previously died from Huntington's, which is a hereditary disorder of the central nervous system.
Part of the mother's complaint hinged on the fact that despite the trust ruling that her son (identified only as Mr P) needed 24-hour care, she still had to visit him every day to feed him as the hospital staff were unable to do it for her.
In his report the ombudsman for Wales said: "Turning to Mrs P's complaints about the length of time her son was in hospital and the arrangements for his future care, (the ombudsman) found that there had been a failure to carry out adequate assessments, a failure to take into account all the relevant facts of the case, and that there had been excessive delay.
"Had comprehensive assessments been done within a reasonable time, and had all the relevant facts been adequately considered, then it was possible that Mr P would have been able to return home sooner than he did."
He recommended that Cardiff & Vale University LHB apologise to Mrs P for the failings and pay her £1,500 for the time and trouble involved in pursuing the complaint and the inconvenience of visiting her son every day to feed him.
The LHB was also instructed to remind staff to carry out full assessments, take specialist advice and consider assisting carers to access relevant training in future cases like this.
The report found that there had been confusion over the reasons for Mr P's admission, but that the evidence did not suggest Mrs P was misled. He did not uphold this part of her complaint.
The LHB has agreed to implement the recommendations.
The board's chief executive Jan Williams admitted assessments in this case were not as thorough as they should have been and there had been delays in decision making.
She said: "We would like to take this opportunity to offer our unreserved apologies to the family of Mr P, for the unacceptable delay in arranging his safe discharge home following an extended inpatient stay in hospital.
"The nature of Mr P's condition, coupled with trying to find a way to care for him safely at home was an extremely difficult set of circumstances to balance.
"Our over-riding priority was to ensure that Mr P and his family were provided with safe and appropriate care at all times. We are sorry that it took so long to make this happen.
"We have put measures in place to improve our continuing care process and have also written to the family to express our sincere apologies and condolences, as well as inviting family members to meet with me and the chair of the health board David Francis."
Huntington's disease is an hereditary neurological disorder of the central nervous system that causes progressive degeneration of cells in the brain, slowly impairing a person's ability to walk, think, talk and reason.