Man's suicide after killing former partner in Bridgend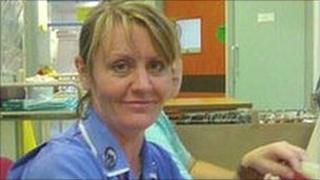 A nurse found dead at her Bridgend home was unlawfully killed by her former partner, a coroner has ruled.
An inquest into the death of Wendy Thomas, 40 in June 2009 heard that she was killed by Neil Morrison.
When detectives went to his house nearby they discovered he had taken his own life.
The inquest in Aberdare heard the couple had a volatile and tempestuous relationship and that Morrison never got over their separation.
Det Sgt Andy Robinson told the inquest at Aberdare the couple had adopted a child in 2006 which social services took back because of a domestic dispute.
Their relationship deteriorated further and they split up but Mr Morrison continued to contact Ms Thomas and they exchanged 77 texts in the two weeks before her death.
Most were from her trying to keep him away.
Blood stained
Ms Thomas, who worked at the Princess of Wales Hospital, Bridgend, was found dead at her home on 15 June, 2009.
The inquest heard that Morrison never got over their split and was seen near her home in the days and weeks before the killing.
Detectives went to his house with a search warrant and found his body.
A camcorder with footage of their adopted child appeared to have been viewed just before he killed himself.
A knife was later found in his car.
A post-mortem examination concluded that her cause of death was head and neck injuries.
Recording a verdict of unlawful killing, the coroner Peter Maddox said the evidence clearly established the perpetrator of the act.
In a statement issued after her death her parents Glad and Lyn, sister Julie and brother Matthew said: "One of the lights of our lives have gone out.
"Our beloved daughter was cruelly taken from the world. Wendy was a loving, happy girl; full of joy, really fun-loving," they said.