Cardiff quad bike deaths 'accidental'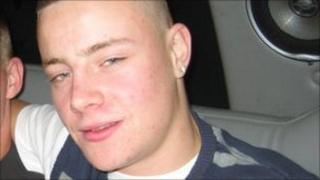 Verdicts of accidental death have been recorded on two men struck by a train while riding a quad bike on the main Cardiff to London railway line.
Trevor Davies, 20, and David Cooper, 24, of Rumney, Cardiff, died in the early hours of 9 December last year.
Their deaths followed a £40,000 burglary at Cardiff's Go Outdoors store after which two men were charged.
The inquest in Cardiff heard Mr Davies' and Mr Cooper's quad bike was almost ripped in two in the 70mph collision.
Their bodies were later found by paramedics down the line from the clothing warehouse outlet in Newport Road, which was targeted in the raid and which is next to the railway.
CCTV showed four men leaving the scene on two quad bikes through a fence and onto the railway line.
Liam Xeureb, 22, and Anthony Thomas, 23, both of Cardiff, were charged with burglary and endangering safety on the railways.
Refused to reply
Both deny all charges and are due to stand trial later this month.
The two men were questioned by Cardiff coroner Mary Hassall during the jury inquest but both refused to reply, claiming their right not to answer her questions on the grounds that they might incriminate themselves.
"My concern is not a burglary or potential burglary or any matters relating to criminal prosecution," she told both men individually.
"My concern is how David and Trevor came by their deaths. Can you tell me how you know David and Trevor?" the coroner asked.
However both answered: "I have been advised to say nothing at this moment in time so I will not be answering any questions."
'Risk of derailing'
The inquest jury, of eight women and two men, returned their verdicts after hearing lengthy evidence regarding the findings of the investigation into both deaths.
The jury heard that the driver of the train which hit the pair had not seen them, and that as the bikes would have been noisy, it would have been impossible for them to hear the train until it was upon them.
The coroner's court also heard that there was a considerable risk of the collision derailing the train and endangering the crew.
The inquest was told that two other men then tried to raise the alarm with nearby residents saying that their friends had been killed.
One in particular was described as "frantic".
They showed paramedics to the scene but when the paramedics reached them, they could find no signs of life.
Shortly after that, the two other men had left the scene.
Post mortem examinations on the recovered bodies showed that Mr Cooper died of head injuries and Mr Davies died from multiple injuries.