Majorca pool fall badly injures Nantyglo tourist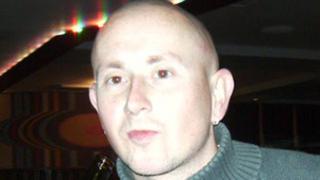 A holidaymaker is seriously injured in a Spanish hospital after an accident at his hotel swimming pool.
Gareth Hall from Nantyglo near Ebbw Vale had only just arrived at the resort of Magaluf on the island of Majorca when he fell and hit his head.
Friends and family of the 28-year-old factory worker are now raising money to help bring him home.
Both his parents died in recent years but his brother has flown out to keep a bedside vigil.
Kevin Southway who was on the trip with Mr Hall and another friend said they were on the first morning of their holiday.
"We reached Magaluf and Gav was all excited. He was like a bottle of pop.
"It was a chance to get away and just enjoy himself because of the troubles he has had."
Mr Southway told BBC Radio Wales he and friend followed Mr Hall to the swimming pool but when they got there he was just motionless in the water.
"He looked dead. I can see his face now - I've had nightmares," he said.
They pulled him to safety and paramedics were called. He was moved from the hotel on a spinal board and is now in hospital in Palma.
Mr Southway added: "When I seen him the next day in hospital I asked him what was wrong and he said he must have crossed his foot over and could not get his balance.
"He hit his head on the side of the swimming pool."
He said Mr Hall's brother had now flown to Spain to be with him.
He said people were fundraising, including their local pub and football team, to help bring him home.
"It's very important just to get him back home," he added.
"A lot of people round where we live are raising money."
A spokesperson for the Foreign Office said "We are aware of the hospitalisation of a British national on 17 August in Magaluf in Majorca.
"We stand ready to provide consular assistance."