Bird studies lead to Cardiff student's photo award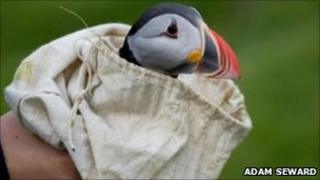 A Cardiff post-graduate student's fieldwork into bird populations has led to a photography award.
Keen photographer Adam Seward was at the remote Fair Isle, Scotland, when he took the images of a puffin and two wheatears.
They have now won British Ecological Society awards.
"Adam loves to use his photographic skills to illustrate his research work," said lecturer Dr Rob Thomas, from Cardiff School of Biosciences.
He was previously commended in the European Wildlife Photographer of the Year competition last year.
The puffin photo was taken while the bird was being ringed for a population monitoring project earlier this year.
"It was a bit of fun really, with the puffin looking quite comical emerging from the bird bag - although I'm sure the puffin wouldn't see it that way," said Mr Seward, who is studying for a PhD.
His photograph of two wheatears was taken during a May snow shower, during a population study.
'Signature style'
"They were being provided with supplementary food as part of an experiment on changing food availability, and so would approach very close," he said.
"One day in May, there was a very short snow shower while I was topping up their feeder, and I took the chance to get a series of photos of the wheatears in the unusual conditions."
Dr Thomas said that the photography had a "signature style" of soft focus in the background and showed the "detail and beauty" of the birds.
Fieldwork can involve spending up to 18 months away from college, with Mr Seward following the wheatear from Shetland and Greenland to Senegal in west Africa, investigating how changes in food availability affects its breeding, survival and migration.
The zoology graduate has previously been away researching meerkats, gibbons and monkeys.
He hopes to continue with research on the effects of environmental change on animal populations.