Ruperra Castle, near Rudry, goes on market for £1.5m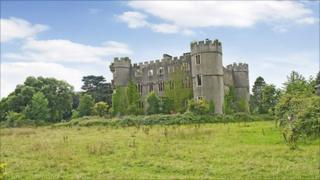 A "fantasy" castle built in 1626 and reputedly visited by King Charles I has gone on sale for £1.5m.
Ruperra Castle in Caerphilly county was built as a status symbol by Sir Thomas Morgan, said to be one of the most powerful men in Wales.
It burnt down in 1785 and was then rebuilt in its current style before being gutted by fire in 1941.
Ruperra Castle Preservation Trust said the building, between Lower Machen and Rudry, was of "huge cultural value".
Trust trustee Mark Baker said he hoped whoever bought the property would "take into consideration the historic nature of the site".
"It's one of Wales' most important buildings. It has huge cultural value to the nation as a whole," he said.
"It's not a development site as such, it's of great significance."
An attempt to build 18 new homes at the site failed following a public inquiry last year.
The castle, situated in 14 acres of parkland, is a scheduled ancient monument and includes 19th Century grade II-listed outbuildings, including stables and a house requiring refurbishment.
King Charles I is said to have stayed there in 1645 while raising support after the Battle of Naseby in the English Civil War.
Mr Baker said: "It fills an architectural gap where you move from a medieval structure to something that is more domestic and more of a country house.
'International significance'
"You can see it's inspired by Caerphilly Castle with the round towers, and there's this amazing porch which looks like it's been imported from Renaissance Italy depicting the history and story of the Morgan family."
Property advisor Savills said it had been described by one historic building specialist as a "fantasy" castle that referred back to a lost age.
Miles Thomas, head of development at Savills, said: "Castles don't come on the market every day and this is a rare opportunity for someone with enough imagination and funds to repair and conserve this unique building, which has been recognised as having international significance.
"This could once again become a really breathtaking, historically significant manor house subject to the necessary planning consents."
The original castle was built by Sir Thomas Morgan, son of a Welsh landowner who fought in the English Civil War and rose through the ranks.
The building burnt down in 1785 and was rebuilt in its current gothic style with towers and battlements.
The estate was used by the army during World War II but was again hit by a major fire.
It was sold in the 1950s and remained in private ownership.