Design for £2m valleys hospice in Ebbw Vale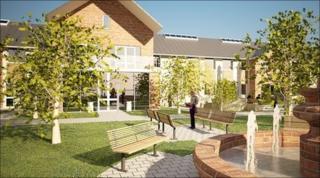 A master plan has been published for a new £2m purpose-built Hospice of the Valleys in Blaenau Gwent.
A hospice care team provides palliative care to cancer patients at home but there are hopes of a new centre at the old steelworks site in Ebbw Vale.
An artist impression has been released by a design team at the University of Glamorgan.
The hospice said it would provide "high quality care and support" in a "tranquil and peaceful setting".
The care team run by the hospice over the past 14 years has seen the number of patients it has treated rise by 88% to 550 a year.
The registered charity, which costs £800,000 a year to run, includes a consultant, doctor, specialist nurses, social workers and welfare rights officers.
'Enhance their university experience'
They currently work out of offices in Tredegar but staff would move to Ebbw Vale when the new building is ready.
An appeal to raise money for the new centre has so far raised £350,000.
Prof Demetrios Djialli, who heads the design team at the university's Centre for Engineering Research and Environmental Applications (Cerea) said they had been working towards a low carbon building.
"From the academic viewpoint, this project is now part of a postgraduate course in design and project management, exposing our students to real-life projects and helping them to appreciate community responsibility and to enhance their university experience."
Andy Richards, chief executive of the Hospice of the Valleys said: " We are extremely pleased with the designs developed by Professor Djialli and his team, and look forward to moving ahead with the project."