Cardiff pair begin 70-plus consecutive marathons in USA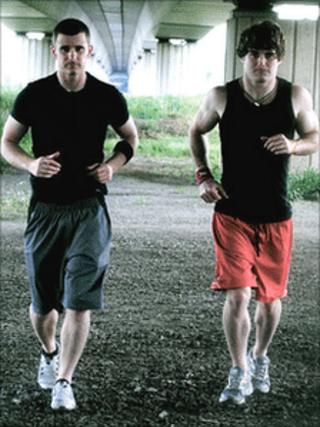 Two Cardiff brothers aim to complete the equivalent of a marathon a day as they run 2,000 miles across the USA.
Scott and Rhys Jenkins plan to jog for more than 70 days in a row while they run from Boston, Massachussets, to Austin, Texas.
The pair, 29 and 22, want to raise £250,000 for charities, including Help for Heroes and Salute American Heroes.
Scott, who works in a gym rehabilitating cardiac patients, said they have been training for a year.
"We flew in on Sunday and thankfully the weather is a bit better than it was at home," he said.
"We are going to try and do a marathon a day for 73 or 74 days.
"The world record currently stands at 52 consecutive marathons in consecutive days."
Support vehicle
They will be joined by friend Rusty Tolliver, from Austin, Texas, where they aim to finish the challenge.
One of Rusty's friends will drive a support vehicle and another friend will film their exploits and update their website.
"We've been training for the last 12 months. During the week we've been running half-marathons and then 30 miles on the weekends," added Scott.
He said they wanted to support a number of charities, including those for injured servicemen returning home from Afghanistan as they had friends who had served in the forces.
"It's a difficult amount to raise but we will be running with buckets and once we set out I think people will get behind it.
"Myself and my brother always like coming out to America especially as we have friends here.
"It's something that has not been done before and the distance from Boston to Austin is 2,000 miles so we thought we'd give it a go."