Mine killed Bridgend soldier in 'cleared' Helmand area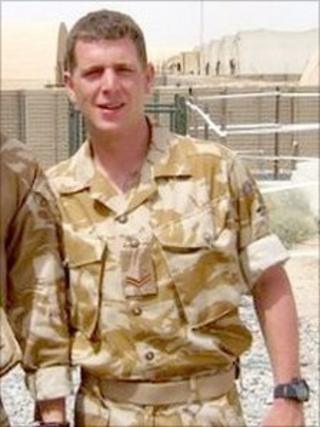 A Welsh Guardsman died when he stepped on a mine in an area of Helmand Province in Afghanistan that had already been cleared, an inquest heard.
L/Cpl Dane Elson, 22, from Bridgend, was on patrol in July 2009 when the device exploded.
Other soldiers with him told the inquest in Aberdare of a flash which blew them off their feet in an area which had previously been swept twice.
Coroner Peter Maddox recorded a verdict of unlawful killing on active service.
L/Cpl Elson was clearing an area near Gereshk of insurgents when the explosion happened.
He was preparing his minesweeping equipment but took a step as he replaced his daysack on his back and trod on the improvised explosive device (IED), the hearing was told.
'Enjoyed life to the full'
Sgt Stephen King, of the Special Investigations Branch, read a statement from another soldier on patrol, who said there had been a bright flash as the bomb exploded.
The soldier had his rifle blown out of his hand, and he had been sitting two or three metres from L/Cpl Elson.
After the inquest L/Cpl Elson's mother, Deborah Morris, and his stepfather, Terry Morris, said they were satisfied with the verdict.
Mr Morris said it had been comforting to hear in court that he had had the correct training.
"We feel this is the final chapter in the book and now we can move on.
"We will never forget Dane and we visit him every week at the cemetery, it gives us some comfort."
Mr Maddox also recorded a verdict of unlawful killing whilst on active service in a separate inquest into the death of Lance Sergeant Tobie Fasfous, 29, who was also from Bridgend.
He died on a routine foot patrol in Gereshk on April 28 last year.
The inquest heard the blast that killed him may have been caused by an interpreter stepping off a cleared path.
L/Sgt Fasfous, from 1st Battalion Welsh Guards, would have been knocked unconscious immediately and died shortly afterwards, the inquest heard.
Speaking afterwards his mother Anne said her son loved the Army.
"He was half my life, it is absolutely heart-breaking still, 16 months down the line," she added.
"He loved his chosen career, it was him and he had my full support.
"Afghanistan is a hostile place, not a nice place to be, but it is not something he would have shied away from or have been intimidated by."