Parents' anger at school break cereal bar ban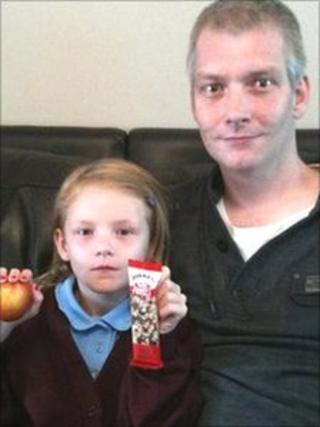 The parents of a girl under medical and dietary supervision have criticised a fruit-only rule which barred her from eating a cereal bar in school break.
They were told Ella Cooke, six, of Beddau near Pontypridd, must have a doctor's note before relaxing the rule.
The Creigiau Primary School pupil weighs just 3st (19kg) and is under medical and dietary supervision.
The school said it had to insist on a doctor's note otherwise the healthy eating initiative would not work.
Ella's father and mother, Darren and Justine Cooke, said their daughter was under supervision to monitor her growth and development, and part of her treatment includes a high-calorie diet to promote weight gain.
Mr Cooke said: "When I went to collect Ella from school, I found her gobbling down the cereal bar as if her life depended on it.
Doctor's note
"When I asked her why she was so hungry and why she hadn't eaten it at playtime as usual she told me that she'd been stopped from eating it, because the headmaster had decided they could only have fruit during their break."
Mr Cooke said he was told it was not the head teacher's decision, but a directive under the Welsh Assembly Government's Appetite For Life initiative.
"He said he was powerless to give Ella special dispensation until he'd seen a doctor's note. The word of a parent apparently counts for nothing," he said.
"The worst thing about it was that Ella wasn't even offered an alternative when she had her snack taken from her."
The couple, both nurses, say they witness the effects of poor diet each day, and welcome any initiative to educate children about nutrition as early as possible.
But they questioned a system which enforces a one-size-fits-all policy.
Mrs Cooke said: "Ella has a particular medical need, and the way she was treated is plain wrong.
"But even if she didn't, I'm her mother, and surely it's up to me to decide what she eats? Schools are there to teach and advise, not to parent."
'Resulting in jealousy'
Headteacher Peter Evans said: "First of all I must make a distinction between lunchtime, when parents have an incontrovertible right to provide whatever they like in a packed lunch, and snacks at breaktime when myself and the governors feel we have an opportunity to encourage a fruit-only rule as part of a wider education in healthy eating.
"Unfortunately, we have to insist on a doctor's note before we vary the conditions of our initiative, as otherwise we simply end up with some parents deciding they don't want to be part of the programme, resulting in jealousy between the children who can eat crisps and those who have to eat apples."
The assembly government told Ella's parents there had been "a misunderstanding around what is a recommendation and what is a directive".
"The Appetite for Life action plan sets out the strategic direction and actions required to improve the provision of food and drink in schools, including developing a whole-school approach towards healthy eating," it told them.
"It is the school that has the discretion to make decisions around food and snacks brought into school."