Editors' jobs at south Wales valleys papers set to go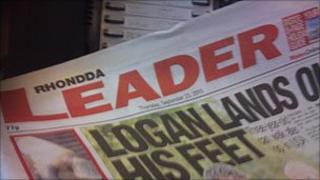 Four editors who run seven weekly newspaper titles serving communities in the south Wales valleys have been told their jobs are likely to go.
Media Wales plans to appoint an editor-in-chief to oversee senior staff to run titles including the Merthyr Express, Pontypridd Observer, Rhondda Leader and Glamorgan Gazette.
The company said communities would be "better served by a new approach".
Unions said the "primary concern" was for those facing redundancy.
Media Wales, which also produces daily titles the Western Mail and South Wales Echo, said it was committed to the titles and the communities they served.
The four editors currently edit seven newspaper titles between them - the Merthyr Express, Rhymney Valley Express, Gwent Gazette, Pontypridd Observer, Rhondda Leader, Glamorgan Gazette and Cynon Valley Leader.
Alan Edmunds, publishing director, said there would be a series of developments and enhancements at the newspapers in the coming months.
"Since the introduction of our multimedia newsroom in 2008, we have been working with the weekly titles to produce our Celtic newspaper series in the most effective way possible for our readers and advertisers," he added.
"It is our belief that the future development and operational requirements of these titles as well as the needs of the communities that they engage will be better served by a new approach."
He said the editor roles at the weekly titles would be made redundant and the company had started a period of consultation with the four members of staff affected.
The National Union of Journalists (NUJ) said its primary concern was for its members facing redundancy.
The union's father of chapel Martin Shipton said no other staff would be affected and the district offices would remain open.
"The proposal is to make the four redundant. There is going to be a consultation period and we're holding a meeting on Monday to discuss the proposal."
Media Wales, part of the Trinity Mirror group, closed two of its papers - the Neath and Port Talbot Guardians, last year.