The man who brought the Ryder Cup to Wales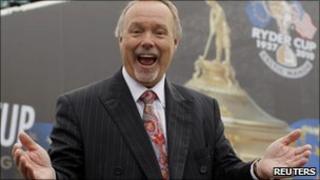 The story of Sir Terry Matthews is an extraordinary one.
After making a fortune in the telecommunications industry, he bought the manor house where he was born, invested more than £100m in it and then secured the Ryder Cup.
That is what he has achieved in single-minded fashion. So how did it all start?
Sixty-seven years ago he was born in the Celtic Manor when it was a maternity hospital.
He was raised in Newbridge and at the age of 15 moved to London to begin an apprenticeship with a research lab that was then part of the Post Office.
In his own words he then "pigged out" on education with an electronics degree at Swansea University.
He was offered a job while on holiday in Canada and that is where his first big break came after setting up a company called Mitel. It was the early 1970s and touch-tone phones were gradually replacing rotary dial phones around the world.
The expensive pieces of kit to use these were in the telephone exchanges. At the time they cost $1,500 each. Sir Terry and his business partner developed one that cost $150. At a tenth of the cost Mitel quickly dominated the market.
The other landmark break was with a company called Newbridge Networks which he sold at the peak of the dot.com bubble a decade ago for $7.5bn, making him Wales' first billionaire.
He is still starting about four companies a year for his business empire that employs around 4,000 people around the world.
Sir Terry puts his wealth down to a combination of persistence and timing. He insists he was never an overnight success and only concentrated on areas of technology that he knew about.
The man who runs many of his companies now is Simon Gibson. He puts the success of Sir Terry down to his relationship with his customers. He spends large amounts of time with them discussing what they want so that he then only invests in developing products that are needed by the market.
Sir Terry is also remarkably unsentimental about the Ryder Cup coming to Wales. He's repeatedly dismissed it as some kind of indulgence, instead pointing to it as an investment for the Celtic Manor business.
Surprisingly, he doesn't play golf and would much rather talk industrial history than putting technique.
His son Dylan, who runs the Celtic Manor, says his father will watch very little golf over the weekend as he will be wrapped up in wall to wall meetings with the 300 guests he is personally inviting from all over the world for each day of the event.
And what will Sir Terry Matthews do after the Ryder Cup? He may be ideally placed to retire to the golf course but it seems highly unlikely.
Colleagues say that despite being around the age when most people scale down their activities, he will never stop looking for deals because starting up companies is the hobby he enjoys doing most in life.