Monmouthshire 'sorry' for flying only Union Jack on HQ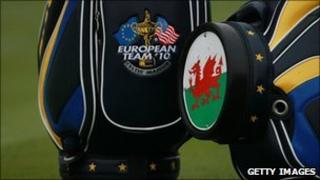 A council has apologised for "causing confusion" with the flag flying over its newly-restored offices.
Residents urged Monmouthshire council to rethink after it ran up just the Union Jack on Shire Hall, Monmouth.
The council initially refused, saying it did not want to get "embroiled in debates" over the town's historical heritage.
But a spokeswoman said it now intended to add two more flags - the Welsh flag, and a specific Shire Hall flag.
Among those who pushed for a U-turn on the flag was historian and archaeologist Stephen Clarke.
He wrote to the council chief executive pointing out that the Red Dragon was flown above most public buildings and historic monuments in Wales, but only the Union flag had been seen flying over the Shire Hall for several months.
Mr Clarke said: "There's all sorts of silly legends about Monmouthshire being separate to Wales but it's all myth really.
"We do feel strongly about this especially in Ryder Cup week.
"Monmouth is the first town over the border - on the A40 and the gateway to Wales - we should be flying our flag."
In response Kellie Beirne, the council's chief officer for regeneration and culture, issued a statement stressing that the council was proud of its Welsh heritage.
"The Shire Hall in Monmouth is a historically important building and the town itself plays a significant part in both Welsh and English history," she said.
Ms Beirne explained that the council was in the process of having another two extra flag poles added to the building.
"We recognise that people have strong feelings about these issues and we have not intended to cause offence to anyone by flying the flag that's currently up there," she said.
"We hope people understand that we are making arrangements to ensure everyone is represented.
"Due to the building's unique identity, we are commissioning a specific Shire Hall flag to emphasise the extraordinary history it has."
Shire Hall, refurbished at a cost of £4.5m, was officially opened by the Princess Royal on Monday 27 September.
The grade I listed building dates back to 1724 and sits on the site of an original Tudor court built in 1536.
Leading members of the chartist movement were condemned to death there for high treason in 1840.