Australian PM Julia Gillard 'proud' to follow Kinnock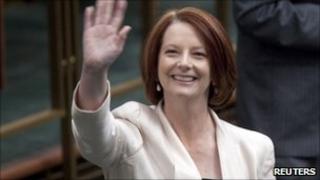 The Welsh-born Australian prime minister Julia Gillard has cited former Labour Lord Kinnock as her political inspiration.
In a video message to the Labour Party conference, Ms Gillard said: "I'm proud to follow in Neil Kinnock's footsteps as a red-headed Welsh Labour leader."
Labour should be "immensely proud" of its time in government under Tony Blair and Gordon Brown, she added.
Barry-born Ms Gillard currently heads a minority government.
The video message, which was aired to delegates in Manchester, saw her speaking of her pride at the new post.
She said: "Just as Australia was the first nation to elect a majority Labour government, I'm glad that we've now elected a Welsh-born Labour prime minister, though I certainly hope we are not the last nation to do so."
Ms Gillard may be the first Welsh-born PM of modern times, but she is not the first Welsh person in the job.
North Wales got there first, with the title going to Billy Hughes, a Welsh speaker raised in Llandudno, Conwy, who emigrated in his early 20s.
He served as Australian premier between 1915 and 1923.
Ms Gillard told the audience in Manchester: "Like many of the founders of Australian Labor, I made my own journey to Australia across the sea from your land, having spent my earliest years in the town of Barry in south Wales."
Ms Gillard was elected as prime minister last month. She assumed the party leadership earlier this year after the incumbent Kevin Rudd's resignation.
In her message to the conference she showed support for new leader Ed Miliband: "Now, with fresh leadership in place, a new journey begins for British Labour.
"The task of making Labour values, Labour traditions and Labour policies new again."
Ms Gillard was not the only person to use the conference as an opportunity to praise Lord Kinnock.
His daughter-in-law, Helle Thorning-Schmidt, who is leader of the Danish Social Democrats, took the podium to tell the audience he was her "great inspiration" in a 20-minute speech.
Her comments prompted the former party leader to shed a tear.
The politician is married to Stephen Kinnock, son of Lord Kinnock and his wife Baroness (Glenys) Kinnock.
Ms Thorning-Schmidt told the conference: "Neil and Glenys - you two together are one of the reasons why I stand here today.
"Your devotion to Labour, public service and hard work has been a great inspiration in my life, as I know it has been to many of us."