Warburtons 'may sell' threatened Newport bakery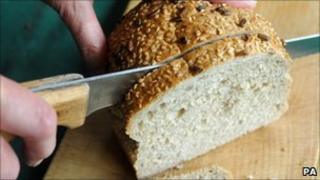 A bakery has welcomed interest from other companies in its threatened factory in Newport.
Warburtons last week said 114 jobs could be lost at the site and it might be shut altogether.
Brace's Bakery, based at nearby Crumlin, has said it wants to buy the Rogerstone plant and save the jobs.
Warburtons, which is holding a 90-day consultation with staff, said options under review "may ultimately include the potential sale of the site".
The Lancashire-based firm said it was facing a surplus of capacity and had been forced into efficiency savings as a result.
The site in Newport, which opened in 2006, produces 450,000 products every week with a range of white, wholemeal and fruit loaves.
Crumlin-based Brace's has contacted the firm, unions and assembly government about taking over the site.
Scott Richardson, of Brace's, said it had begun a new recruitment process and had jobs available.
'Confidential'
He said: "As well as looking at expanding the business by opening a new bakery, we are also currently recruiting and we would like to invite anyone not secure in their job within the Warburtons bakery to get in touch with us.
"We are growing our business and we need more people to meet our current demand."
Warburtons said it wanted to "explore all alternatives to closure and possible redundancies".
It said: "These alternatives may ultimately include the potential sale of the site and Warburtons welcomes the various expressions of interest it has received from a number of parties.
"During the consultation period, the company will also contact those who have expressed an interest in the site."
The statement said it would not comment further on any confidential discussions.