Regulars campaign to save Cardiff gay pub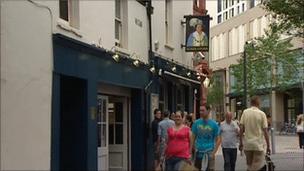 Members of Cardiff's gay community are campaigning to save a city centre pub.
The Kings Cross, a gay venue for at least 35 years, could be converted into a restaurant, or 'gastro-pub', as part of a UK-wide strategy by the owners.
An online campaign by regulars to keep the pub as it is has attracted 500 supporters in its first three days.
Owners Mitchells & Butlers (M&B) said: "At this time, options for the Kings Cross are still under review and any final decision is yet to be made."
The pub, in the Hayes area of the city centre near the St David's shopping centre, is one of the oldest gay pubs in the UK.
It has twice won The Pink Paper's Welsh Gay Venue of The Year award.
In response to the threat, its customers have launched a Facebook campaign, 'Save Kings Cross Cardiff' , and a public meeting is also planned at the pub for Tuesday, 12 October.
Haydn Price, a regular for 20 years, said the pub had a pedigree which the owners would be foolish to cast aside.
"I don't think for a moment that this is an anti-gay move," said Mr Price.
"M&B have always supported the gay community, and run five or six other gay pubs around the UK.
"But whether intentional or not, the effect of the planned changes will be to drive out the gay customers who've kept the pub going all these years."
Mr Price added: "I'm sure their thinking is based on economics; though it's very bad economics.
"St David's already has umpteen restaurants, and competition will be savage; whereas there are only four or five gay pubs in Cardiff, and in its current form the Kings is thriving."
M&B spokesman Andrew Roache confirmed that the firm was reshaping itself towards being a food-focused business.
"This means our remaining late night drinks-led pubs and bars, including the Kings Cross, are currently being reviewed with regard to converting them into one of our core brands," he said.
Mr Roache said he appreciated that the Kings Cross was a popular venue in Cardiff with many regular customers who were keen to know more about the future plans for the business.
He said any plans to change the pub would not come into effect this year.
Related Internet Links
The BBC is not responsible for the content of external sites.