Family honours Newport soldier killed in Afghanistan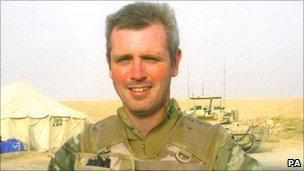 Hundreds of mourners have gathered to pay their respects to a soldier from Newport who was killed in Afghanistan.
Sergeant Andrew Jones, 35, of the Royal Engineers, was killed in action during an operation in Helmand province on 18 September.
At a packed service in St Woolos Cathedral in Newport, his friend read out a tribute from Sgt Jones' young daughter Caitlin.
It read: "My daddy was a hero, he was funny, he was wonderful."
Up to 400 relatives, friends and well-wishers crowded into the cathedral. A further 200 people stood outside and listened to the service as it was relayed through speakers.
Six regimental colleagues acted as pall bearers.
Staff Sgt Nicholas Robinson, best friend and colleague of Sgt Jones, read out the tribute from Caitlin.
It continued: "My daddy was a great dad to me. He will always stay in my memories.
"He was trying to teach me to swim. We will always miss him, too much. Sweet dreams Daddy. Caitlin."
Staff Sgt Robinson said his friend would never have wanted to see people crying over his death.
He said: "He wanted people to be happy.
"This is not a moment to shed our tears. We should be happy that we were able to know him."
On arriving at the cathedral the coffin, which was draped with a union flag and decorated with a wreath, was greeted by a guard of honour.
A second union flag flew at half mast from the cathedral's main tower.
'Outstanding representative'
In the service, Lieutenant Colonel Martin Todd, commanding officer of the Queen's Royal Lancers, described Sgt Jones as having "a peerless reputation as a tough, resolute soldier and leader".
He said: "He was in every way an outstanding representative of the Royal Engineers in whom he displayed an abiding pride.
"A proud Welshman who exhibited all the fortitude of his countrymen, he was at heart a devoted family man."
His wife Joanne Jones said the loss of her "happy, funny and caring" husband had left a "gaping hole" in the lives of her and their three children.
Sgt Jones died while on patrol in the Bolan district of Lashkar Gah.
His colleague Trooper Andrew Martin Howarth, 20, of Bournemouth, Dorset, was killed while taking part in the same patrol.
After the funeral, his coffin was taken to Christchurch Cemetery, Newport, for a private burial.