Union and workers vow to fight passport office closure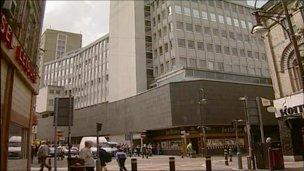 About 300 workers have attended a meeting to discuss the planned closure of Newport passport office.
Staff and union officials met in the ballroom of the city's King's Hotel following news that the office could close with the loss of 300 jobs.
The Public and Commercial Services Union (PCS) has vowed to fight "24 hours a day" to stop the cuts.
The Identity and Passport Service (IPS) has said that passport services would remain unaffected for people in Wales.
The IPS confirmed on Friday it was consulting on closing the Newport branch.
The PCS said the move would have a "devastating" impact on the local economy.
The proposed closure - part of widespread spending cuts across the UK - would leave Wales as the only UK region without a passport office.
Workers at the meeting said they were shocked and angry when the consultation was announced.
Rosie Knight said: "I'm a little scared about the future.
"We were all very shocked and there were some tears and some anger.
"It's just so unfortunate and frightening."
PCS representative Peter Harris said: "The support has been fantastic; the local MPs have been here today, the AMs... Peter Hain has come out in favour of us.
"We couldn't ask for more.
"We will take it all the way. We will fight it 24 hours a day."
There are also fears passport interview offices in Swansea, Wrexham, Newport and Aberystwyth could close.
IPS has pledged to retain locations in Wales and continue to provide a service in Welsh.
Welsh Secretary Cheryl Gillan has said she is lobbying ministers and is due to meet the head of the passport service next week.