Defence budget concern for Wales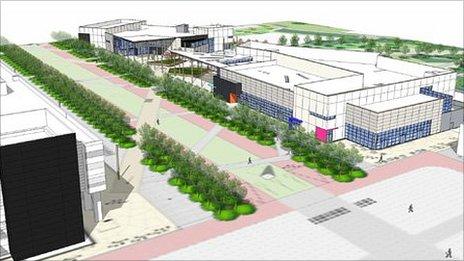 There are concerns about how cuts to the UK government's defence budget will impact on Wales.
An expected reduction of up to 8% over the next four years is likely to force ministers to make tough choices.
There is continuing uncertainty over the proposed £14bn defence training college earmarked for St Athan in the Vale of Glamorgan.
But its backers say its fate will not necessarily be decided by Tuesday's defence review announcements.
David Cameron will later unveil details of the first strategic defence and security review in 12 years.
The Ministry of Defence budget has been the subject of more arguments within government than almost any other during the Spending Review.
The aircraft carrier Ark Royal will be scrapped, part of the price of going ahead with two new carriers.
The future of the proposed Defence Technical College (DTC) in St Athan, which would create more than 2,000 jobs providing training for the armed services, is still uncertain.
It would offer specialist engineering, communications and information systems training to all the UK's armed forces, bringing them together in one location on new premises.
The consortium behind the scheme, Metrix, has said around 2,200 jobs would be created, mostly in security, cleaning and catering, with about 800 workers employed during a four-year construction period.
The fate of the project, which is behind schedule, has remained uncertain following a series of delays.
Welsh union members are travelling to Westminster to lobby MPs ahead of the defence budget announcement, with Unite, Unison and the PCS all taking part.
Welsh MPs and politicians have campaigned for the military training academy to proceed.
Vale of Glamorgan MP and AM for South West Wales, Alun Cairns, said: "I'm obviously hopeful that the project will go ahead.
"It's the right military solution and it will save money over 30 years. However, the Treasury and the MoD are looking for savings over the next three to five years.
"None the less, this fits into the MoD's plan of 'spending to save'".
Mr Cairns said he and other MPs were meeting Defence Secretary Liam Fox later on Tuesday.
Kevin Coyne, Unite's national officer for the MoD, said the defence budget announcement came as 170 staff at the military aircraft maintenance site on the St Athan base were expected to be made redundant by Christmas.
He said: "How can we build our way of of the recession if we are scrapping apprenticeships?"
Related Internet Links
The BBC is not responsible for the content of external sites.