Heritage trail for Treorchy cemetery's famous names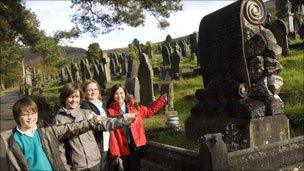 Two funeral directors are behind a new heritage trail, highlighting historic figures buried at a cemetery.
Ian and James Reynolds were told about some of the 70,000 graves, ranging from an MP, war hero to a footballer, by their father who worked at Treorchy Cemetery, Rhondda for 65 years.
The trail is aimed at schools and family historians.
It also includes a section where pub landlords are buried, affectionately called "Boozers Row".
The trail includes graves or memorials for:
Rhondda's first MP and president of the South Wales Miners Federation, William "Mabon" Abraham, who died in 1922
Henry Lewis, who at the age of 18 fought with the South Wales Borderers against the Zulus in Rorke's Drift.
A family memorial to Blaenrhondda boxer David "Dai" John Bowen, 28, who lost his life on the maiden voyage of Titanic in 1912, while travelling to the USA for matches
Manchester City captain Roy Paul, who led the club to two FA Cup Finals, including lifting the trophy in 1956. He died in 2002.
The cemetery heritage trail was researched and funded by the Reynolds brothers, whose late father founded family funeral firm Dewi Reynolds and Sons.
Ian Reynolds, said: "Rhondda has always been recognised as the birthplace to so many talented figures from the world of sport, literature and music.
"The heritage trail remembers them along with the more unusual tragic tails of people that are not so well known within the local communities."
It has been particularly designed to be an educational resource for children to learn about local history.
The trail was officially launched by Treorchy Primary School pupils, who used the trail pamphlet to follow a path through the cemetery to brings them to the 10 most significant graves.
Rhondda Cynon Taf Council's cabinet member for culture, Coun Robert Bevan, said there was an increasing growth of interest in family history and cemeteries were often the first source of information.
"But the heritage trail does much more than that, as it clearly highlights those individuals who are remembered beyond their own immediate family and enjoyed fascinating lives in their own right."
* Copies of the Treorchy Cemetery Heritage Trail are available at schools in Upper Rhondda, Treorchy Library, Rhondda Heritage Park, the cemeteries office at Glyntaff and Dewi Reynolds & Sons.