Cardiff youngsters spend 'warning' night in cells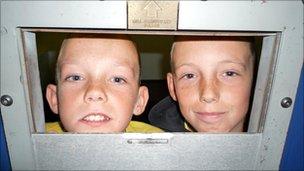 A group of youngsters have been given a graphic warning about the dangers of crime after they volunteered to spend a night in the cells.
The boys were all aged 11-14 and from the Ely and Fairwater areas of Cardiff.
They saw how real prisoners are treated, from posing for mugshots to sampling custody food.
South Wales Police worked with community groups for A Night in the Cell to show the reality of custody and help the boys make better life choices.
The event, called A Night in the Cell, aimed to show children the truth of custody and help them make better choices in life.
The event was in the disused cells at Fairwater police station, where arrested people are no longer held.
On arrival the boys were processed through the custody suite and had to surrender their personal possessions and have their photographs taken, just like any person arrested for a crime.
They then watched a DVD about preventing knife crime and spoke to officers from South Wales Police about keeping safe.
After some standard-issue lasagne, they were paired up to spend a night in the station cells.
Police Community Support Officer Chris Missen, who covers the Ely patch, was one of the forces behind the project.
He said: "This was about allowing the boys to choose what direction they want their lives to go in, by showing them the consequences of crime.
"At first some were a little daunted but they all seemed to enjoy it and one of them turned to me as he left and said: 'This is the last time I'll ever be in a custody suite'.
"We had representatives from various charities like Cardiff Against Bullying who gave them workshops to do and we provided them with information on keeping safe in their community."
PCSO Missen said they had chosen boys from Fairwater and Ely, two areas that often experience problems between rival groups.
He said the hope was the boys would recognise each other as friendly faces in the future.
Steve Mac from Street Based Youth said: "This is a great idea and will certainly help build links between young people in Ely and Fairwater.
"It will encourage them to be friends and build up positive links with the local neighbourhood policing team as well."
One boy who took part, Shaquille, 11, said: "It was good and I will not forget my night in the cell.
"I enjoyed making new friends and learning more about policing, but did miss watching TV."
The hope is to hold more such events in the future, including some where girls can take part.
The project brought together a number of community groups including Communities First, Street Based Youth, Youth Intervention Programme, Dusty Forge Youth Activity Centre, and Cardiff Against Bullying.
The activities were part of a range of events taking place across Cardiff and the rest of Wales for Operation Bang (Be a Nice Guy) - an annual police campaign that focuses on reducing anti-social behaviour over the Halloween and Bonfire Night period.
Related Internet Links
The BBC is not responsible for the content of external sites.