Cardiff brothers finish 2,000-mile US jog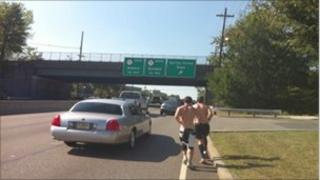 Two brothers have completed a 2,000-mile jog across the USA by running every day for more than 70 days.
Scott and Rhys Jenkins, from Cardiff, set off from Boston in September and finished in Austin, Texas.
Their fundraising for charities, including Help for Heroes and Salute American Heroes, took in 13 states.
Scott, who celebrated his 30th birthday somewhere in Ohio and has lost 24lb, said the pair were running 35 miles daily for much of the challenge.
He said: "It was exhausting.
"Mentally and physically exhausting, trying to move yourself each day.
"It was like groundhog day. But it has been quite a fulfilling achievement to finish.
"We have had some great support from Americans and people at home, from friends and family.
Some friends I haven't seen for a few years have come out and joined us for a run."
The pair had been training for a year for the challenge. Scott, who works in a gym rehabilitating cardiac patients, said they had planned to run a marathon 26 miles each day but increased the miles they were putting in.
He said: "We started off in Boston with doing 26 miles a day. We soon realised we would never have enough time to finish."
The brothers have run 35 miles most days, jogging for five-to-six miles then stopping for a water break before repeating this throughout the day.
Scott said the pair had been burning up to 6,000 calories a day but had not always been able to find it, so had lost a lot of weight.
"It's really hard to find the right food to eat on the road, especially in the middle of places like Kentucky, where we might see only one gas station in an entire day."
The pair hope to raise £250,000 for charity.
Scott said: "I just tried to keep determined. That is one of the things that kept me going is thinking of other people that we've been trying to help.
"I just dragged one foot in front of the other to the end."