Second car stolen during de-icing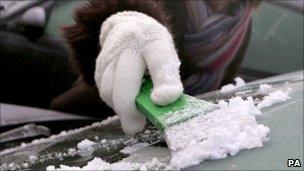 Police have launched a search for thieves who took a car as its owner tried to clear ice from it.
The incident in Cardiff is the second that South Wales Police officers are investigating after a similar incident in nearby Nantgarw, Rhondda Cynon Taf.
Police said the woman owner tried to stop the theft by clinging to the car bonnet suffering cuts and bruises.
Officers said the two men laughed as they drove away from the scene in St Mellons on Tuesday morning.
Police said the 25-year-old woman was clearing ice from Fiat Punto car in preparation for the school run at 0830 GMT.
She had left the keys in the ignition when one of two men pushed her out of the way, said Det Sgt Richie Webber from St Mellons CID.
"This lady was very fortunate not to have suffered serious injuries but she has been left with cuts and bruises and is extremely shaken up," he said.
"This was a frightening incident and a cowardly act by the two men responsible who laughed at they drove off with the car.
"We believe they are local to the St Mellons area and would appeal for anyone with information to get in touch."
The stolen car was later recovered.
One of the suspects is described as mixed race ethnicity, aged 17-20, slim build and with an olive complexion.
Both men were wearing dark clothing, including hooded tops and one was described as possibly wearing a Burberry-style scarf.
Witnesses are beingasked to come forward.