Newport fathers campaigner on explosives trial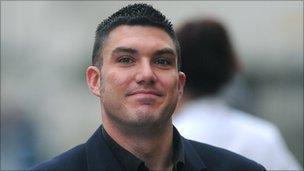 A campaigning father planned to use bullets and explosives to shut down his home city, a court has heard.
Father-of-three Matthew Starmore, of Newport, was found with smokeless gunpowder, ammunition rounds and bullet heads when police raided his house.
Mr Starmore, branch secretary for New Fathers 4 Justice, had a list of targets in his diary, Cardiff Crown Court heard.
He denies possessing explosives, ammunition and handling stolen goods.
The court heard that Mr Starmore, 31, had promised "The most hard-hitting events since World War Two" for Newport.
Prosecutor Roger Griffiths said a diary entry read: "This will be the most dramatic, climatic and hard-hitting events since World War Two.
"This is just the start of a nationwide campaign."
Mr Griffiths said Mr Starmore's diary had a "to-do" list of targets that included sites key to the city's infrastructure.
Mr Griffiths said: "He wanted to shut down the city and pull in police and emergency services from far and wide.
"Starmore wanted to escalate the activities of Fathers for Justice by using the bullets.
"He had these items and he was going to use them to carry out some kind of publicity for Fathers For Justice."
Mr Starmore told police he and his housemate had found the items in a lane and taken them so they were not picked up by children.
He told police the entries in his diary were not written by him and that they were "hypothetical" thoughts.