Art work 'discovered' after 50 years in Newport museum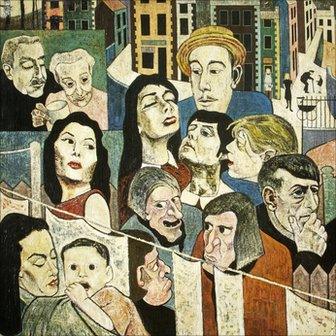 One of the earliest works of a renowned Welsh painter has gone on show after 50 years in a museum's archives.
David Griffiths from Cardiff was a struggling student when, in 1958, he painted 'Llaregyb', based on Dylan Thomas' play Under Milk Wood.
That year he submitted the piece for show at Ebbw Vale eisteddfod where it was bought by Newport museum.
Whilst Mr Griffiths went on to become one of the UK's celebrated portrait artists, his painting gathered dust.
But it was re-discovered two years ago when Mr Griffiths visited the museum and asked staff to see it.
They have since spent £1,200 restoring the painting for a new exhibition.
Newport Museum and Art Gallery curator Robin Hawkins said: "The painting is interesting as it clearly shows the latent ability of this young artist, and yet gives little clue to the style of painting that he was to develop later as a portrait artist," said Mr Hawkins.
The cost of the restoration and framing was funded via CyMAL, Welsh Museums Archives and Libraries.
Mr Griffiths became famous for his painting of the Prince of Wales, receiving the freedom of the city of Cardiff in the year of the investiture, 1969.
He has also depicted famous politicians and sportsmen including politician Enoch Powell, rugby player Barry John and boxer Joe Calzhage.
Mr Griffiths said: "After 50 years, I was really curious to see how Llaregyb had stood the test of time and I was quite pleasantly stunned to see it again in its freshly restored state."
He was brought up in Pwllheli, Gwynedd but has been based in Cardiff for 45 years where he jointly set up the Albany Gallery.
The Face Value exhibition runs until 5 February and shows Newport Museum and Art Gallery's permanent collection together with eight invited artists, including Mr Griffiths.
Related Internet Links
The BBC is not responsible for the content of external sites.