Open-air loos offer relief for revellers in Newport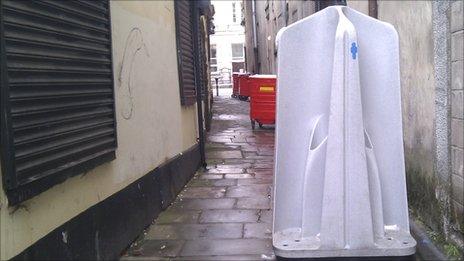 In the freezing weather, it may not be the best time to relieve yourself outdoors on a night out.
But a trial of open-air loos in Newport is attempting to make the unedifying sight of men obeying nature's call in doorways less likely.
Eight outdoor male urinals have been installed in a city centre alley for revellers caught short over the pre-Christmas weekend.
Organisers hope they prove useful to clubbers and help keep streets cleaner.
If the weekend trial is a success, they could become a regular sight at peak times, according to the community safety partnership, Safer Newport.
The three-day trial from Friday to Monday started after local businesses and residents near Carpenters Lane voiced concerns about the smell of urine in the morning.
William Routley, the council cabinet member for environment and community safety, said it was potentially a good short-term solution.
"This kind of scheme has been trialled in London and Bristol before and it could be successful in Newport too," he said.
"The site we've chosen is synonymous with people relieving themselves so we're hoping it will help in that respect.
"My only worry is the further funding if it proves popular."
Gwent Police say it is part of a wider scheme by the community partnership to reduce disorder in the city centre.
Insp Bob Thompson said: "We will be asking the contractor to investigate the usage and if they are successful then we could possibly look for other sites in the city centre, but we will clearly have to bear decency in mind.
"Realistically if people are using them, they're not relieving themselves in doorways and that has to be a good thing for businesses, other revellers and everyone else involved in the city."
Passers-by were generally positive, and one, Geoffrey Clement, 61 said: "I think they're definitely a good idea, although I don't see why they shut the other public toilets in the first place.
"I wouldn't use them myself, but I can see how they'd be useful and it's better than going up against a wall!"
Chloe, 28, from Newport, also approved, but felt they should only be used at night.
"They've got to be good for clubbers coming out in the early hours of the morning.
"I've never heard of anything like this before but so long as they're only used in the evening and normal public toilets are open in the day I don't see any problem with it."
Safer Newport says the toilets after will be removed after Monday.