Cardiff Airport staff seize passenger's frozen turkey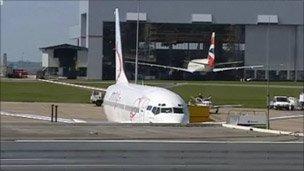 Security staff confiscated a frozen turkey a holidaymaker tried to smuggle on to a flight from Cardiff Airport.
The bird was wanted for a festive meal by the man heading for Malaga as he was worried he would not find one in Spain.
It tops a list of bizarre items seized from passengers which also includes a chainsaw, life-jackets, a goldfish and a briefcase full of bricks.
Airport officials are urging passengers to check what they are allowed to take before trying to board their plane.
A spokesman said: "Finding a turkey in hand-luggage is one of the most strange things we've ever found.
"The passenger was quite puzzled about why they couldn't take it on board with them.
"But we had to confiscate it - and it was destroyed, of course."
When challenged by security staff the passenger asked: "Why are you making a fuss - will it thaw at 30,000ft?"
He was informed it was illegal to take perishable foodstuffs abroad without proper permission.
Officials have revealed the finds in a bid to speed-up safety checks.
The airport's services and security manager Ceri Mashlan said: "It's important for passengers to make sure they're aware of what you can and can't carry on an aircraft before they travel to the airport."
Related Internet Links
The BBC is not responsible for the content of external sites.